Bengaluru South police fire at murder accused in Konanakunte, solve 3 cases with 1 arrest
A notorious criminal who had allegedly set his sister ablaze 10 years ago and murdered two others over trivial issues was cornered by South Division Police who were investigating the murder of an ATM security guard on March 24. The police fired two bullets to subdue the accused.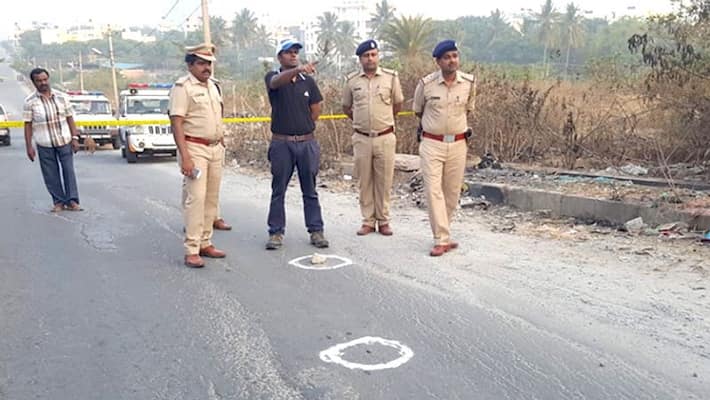 Bengaluru: Bengaluru Police who had opened fire at suspects in the rowdy Lakshmana murder case who attacked them in a bid to resist arrest last month, had to once again resort to this measure. Kumaraswamy Layout Police shot at rowdy Pyscho Raja.
Pyscho Raja also known as Rajendra alias Benki Raja was shot around 4am on Saturday by police at Narayan Nagar, in Konanakunte Police Station limits.
According to deputy commissioner K Annamalai, Kumaraswamy Layout Police which took up the murder investigation of Karnataka Bank ATM Security Guard Lingappa on March 24, has cracked the case with the arrest of Pyscho Raja.
"When we traced the accused to Konanakunte Police Limits in Bengaluru outskirts, the accused pelted stones at policemen. Our officers warned him and fired in the air once, but he did not surrender and continued to attack. Police officers fired at him in self-defence. His thigh and ankle was injured and he was taken to Sairam Hospital for treatment," said the DCP.
With his arrest, police have solved three murder cases and one case of arson. Raja is a resident of CK Palya on Bannerghatta Road.  Police said Raja has been accused of setting his sister ablaze 10 years ago. Eight years ago, he murdered a supervisor of a private firm in Old Thyagarajanagar and recently killed a security guard, police added, stating that he was also involved in arson case during the Cauvery water dispute in 2016.
"The accused has confessed that he wanted to buy ganja and that is why he barged into an ATM to break open the machine. Since the guard objected, he murdered him. He also attempted to rob another ATM at JP Nagar and attacked guards with stones," said senior officer.
The operation was led by KS Layout inspector Hazarish Killadar, Shivakumar, sub-Inspector of Thalaghattapura and sub- Inspector Srinivas Prasad of Konanakunte Police Station.
Last Updated Mar 30, 2019, 5:18 PM IST