Bengaluru Police constable caught on cam for doing good deed; praised by seniors
Girish M, 32, constable from HSR Layout Police Station, was praised for the initiative after photographs of his deed were published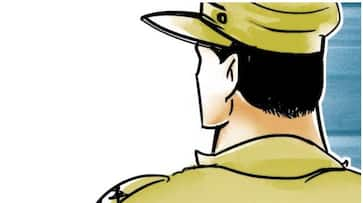 Bengaluru: A police constable in the city has been lauded by the citizens as well as his seniors for covering a manhole instead of waiting for civic authorities to arrive.
Girish M, 32, constable from HSR Layout Police Station, was praised for the initiative and for saving lives after photographs of his deed were published.
The police constable was driving his police jeep, on 18th cross in HSR Layout's Sector 3, when the uncovered manhole caught his attention. He saw that a woman and her daughter were walking too close to the manhole. He immediately got down from his jeep, took a big stone that lay nearby and used it to cover the manhole.
He did not notice that he was being photographed by a passer-by.
The photo went viral on Monday morning after which the police constable received appreciation from his seniors, including deputy commissioner of police (southeast) Isha Pant.
TOI quoted Girish as saying, "People should be aware of such hazards. I think we should not wait for civil agencies, but volunteer and tackle issues ourselves." He felt that it was his duty to cover the manhole.
He reportedly said that a constable's minor daughter recently died of burn injuries. Since then he has been attending to all such issues.
Isha Pant reportedly said that police should volunteer more towards such problems. She reportedly said that just like Girish, citizens shouldn't wait for anyone, but act quickly.
Girish, who hails from Shivamogga is a 2007 batch constable and he loves to do volunteer work. He is a father of two daughters -- the elder is three and a half years old and younger eight months old.
Last Updated Jul 9, 2019, 1:05 PM IST