Bengaluru Police arrest four Tamil Nadu men for trying to sell elephant tusks in city
According to a press release, two members were trying to sell the elephant tusks to the public in Jalahalli Police Station limits and were arrested. Upon further investigation, it was revealed that two other members were involved in the illegal operation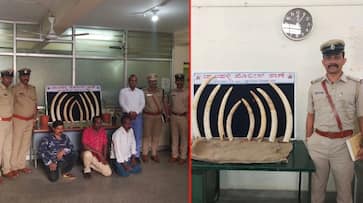 Bengaluru: Jalahalli Police successfully managed to foil the plans of ivory smugglers on Saturday (July 20) when they arrested a gang of four members who tried to sell elephant tusks in the city after smuggling them from Tamil Nadu.
According to a press release, the accused are identified as Jayashelan, a native of Anakaputhur in Chennai, Unnikrishnan, a native of Mettupalayam in Coimbatore, Madeshwaran from Salem and Vijay from Perandur, Tamil Nadu.
During interrogation, one among the four accused revealed that Madeshwaran and Vijay smuggled the tusks from Tamil Nadu and handed them over to Unnikrishnan and Jayashelan to sell.
However, Jalahalli Police officials, after receiving a tip-off, jumped into action and arrested the culprits.
The gang were trying to sell the tusks to the public in Kalinga Rao Circle, near HMT Higher Secondary School, Bengaluru.
Police said that initially, two accused were caught while selling two tusks (33 and 31 inches long). Police interrogated in an attempt to find out whether they had stored away more tusks, when they revealed that they had six more tusks to sell and that there were two more people involved in the trade.
Police arrested the other two culprits and filed a case against the four at Jalahalli Police Station.
Last Updated Jul 20, 2019, 2:09 PM IST