Bengaluru IMA scam: SIT arrests moulvi who got Rs 3 crore bungalow as 'gift' from Mansoor Khan
The moulvi asked men and women to invest in I Monetary Advisory (IMA) and make the founder, Mohammad Mansoor Khan, the biggest business tycoon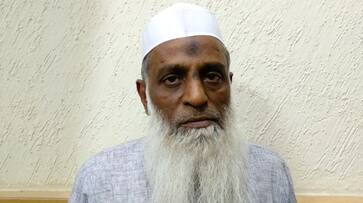 Bengaluru: The Special Investigation Team (SIT) probing the Rs 2,000 crore I Monetary Advisory (IMA) scam arrested a 65-year-old moulvi in Bengaluru on Thursday (July 11). He had been allegedly encouraging the public to invest money in the firm.
The moulvi — Haneef Afsar Azeezi — is in a mosque on OPH Road in Shivajinagar. He was allegedly gifted a bungalow, worth Rs 3 crore, by the IMA Group founder-owner Mohammad Mansoor Khan in HBR Layout, reports said.
Reports said that the accused had encouraged thousands of men and women to invest in IMA. According to reports, he used to define investing in IMA as a religious responsibility during every prayer meeting. He also said that each Muslim should stand by Khan and make him the biggest business tycoon.
Several officials have been arrested by the SIT in the recent developments in the multi-crore scam case. The SIT sleuths had arrested Bengaluru North assistant commissioner LC Nagaraj, deputy commissioner BM Vijayshankar, a village accountant Manjunath, and Bengaluru Development Authority (BDA) official, PD Kumar.
They had also summoned suspended Congress leader R Roshan Baig for allegedly harassing Khan when he was asked to return Rs 400 crore.
Reports said that Khan had claimed, in an audio clip released by him in June, that he had paid Baig Rs 400 crore which he did not return. Revenue minister RV Deshpande reportedly said that Baig had brought Khan to meet him seeking a favour to get a loan. But he refused.
Last Updated Jul 12, 2019, 1:16 PM IST