Bengaluru's Bannerghatta Biological Park names tiger cub after Hima Das
2018 Asian Games gold medallist Hima Das was honoured at Bannerghatta Biological Park on International Tiger Day, when a six-month-old tigress was named after the sportsperson.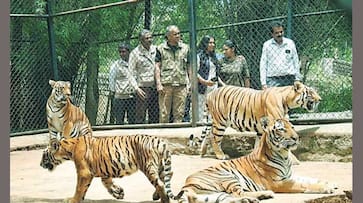 Bengaluru: 2018 Asian Games gold medallist Hima Das was honoured when a six-month-old tigress was named after her in Bannerghatta Biological Park.
To mark International Tiger Day, Hima, the cub, made its first public appearance on July 28 in the safari area of Bannerghatta Biological Park (BBP).
Hima appeared along with three other males and five females.
A series of programmes, organised by the BBP, are in line in view of International Tiger Day, with an aim to understand the endangered species.
Karnataka boasts of the highest tiger population in India, 406, as per the 2014 tiger census.
However, this is not the first time that animals have been named after celebrities.
Former captain of the Indian cricket team Mahendra Singh Dhoni and Indian women's cricket team captain Mithali Raj became quite famous in Bannerghatta Rescue Centre after two sloth bears were named after in the Bannerghatta Rescue Centre.
Many influential personalities have adopted and christened animals in the BBP including Infosys chairperson Sudha Murty and Nandi Infrastructure Corridor Enterprise managing director Ashok Kheny.
First observed in 2010 at the Saint Petersburg Tiger Summit, July 29 is celebrated as Global Tiger Day or International Tiger Day to raise awareness for tiger conservation every year.
The International Tiger Day was established to raise awareness about the declining tiger population around the world. A declaration was made that the tiger populated countries had vowed to double the tiger population by 2020.
According to the World Wildlife Federation (WWF), there are only 3,900 wild tigers left in the world. About 95% of the world's tiger population has disappeared since the beginning of the 20th century.
Notably, the tiger range countries include Bangladesh, Bhutan, Cambodia, China, India, Indonesia, Laos, Malaysia, Myanmar, Nepal, Russia, Thailand and Vietnam.
Notably, the Bali tiger, the Javan Tiger and the Caspian tiger have all gone extinct in the last 100 years.
 
Last Updated Jul 29, 2019, 12:06 PM IST