25-year-old jumps from Dasarahalli Metro Station concourse; reason for plunge yet to be ascertained
Sandeep (25), jumped from the Metro Station concourse to the ground 25 feet below after he was stopped by station guards who questioned him about consuming alcohol or drugs in the station's washroom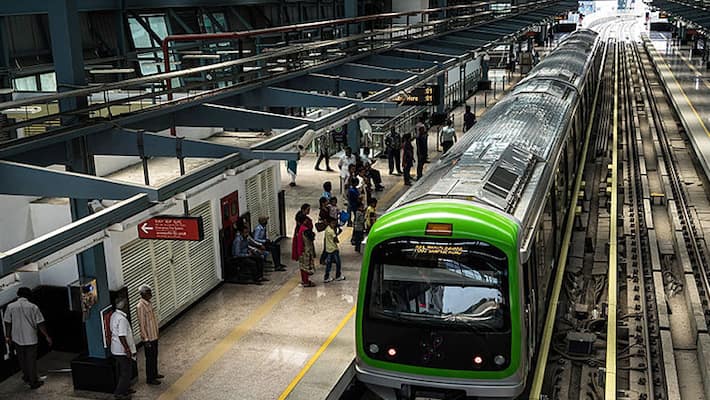 Bengaluru: A 25-year-old youth jumped to the ground from the concourse at the Dasarahalli Metro Station on Tuesday.
 Sandeep reportedly leaped from the concourse when security guards interrogated him about his suspicious behaviour. Police said that he was consuming drugs or alcohol in the bathroom, when another passenger informed the station security about what was happening.
Sandeep had been shifted to Sapthagiri hospital at around 5pm, after which he was moved to Victoria Hospital and is currently under observation.
BL Yeshwanth Chavan, BMRCL chief public relations officer, stated that at around 3:30 pm, after a passenger had complained about Sandeep to security personnel, the guards tried to question Sandeep. However, he sped through a housekeeping room and jumped 25 feet to the ground below.
Sandeep had recently completed his PU from Kerala and was in Bengaluru seeking employment. His parents are residents of Dasarahalli and are employed in a private factory.
Yeshwanth Chavan said," The victim had been shifted from Victoria Hospital to a hospital in Rajajinagar where he is now recovering".
In another accident which happened at the Srirampura Metro Station on January 27, 18-month-old Hasini, who was carried by her grandfather, slipped from his arms when he lost his balance and fell from a height of about 35 feet. The child slipped through a gap between the railing and the escalator's handrail.
Despite efforts to save her life, Hasini succumbed to injuries at the Indira Gandhi Institute of Child Health on January 29.
A case of negligence had been filed against the BMRCL, since nothing had been done to fix the gap between the railing and the handrail. After the incident, Chief Minister HD Kumaraswamy had asked officials to make sure that better safety measures would be followed to avoid similar incidents in the future.
Last Updated May 15, 2019, 6:51 PM IST