Bruhat Bengaluru Mahanagara Palike (BBMP) announces allotment of Rs 10687.79 crore budget for 2019-2020
From free Wi-Fi to total tax rebate for defence personnel, to Rs 1 lakh for the first girl child born in 24 BBMP hospitals on January 1 to houses for SC/ST in each ward to five houses in each ward reserved for minorities and backward sections, the BBMP budget has a plenty to offer in 2019-2020. The BBMP were allotted Rs 10687.79 by the Coalition to score over its opposition BJP in Bengaluru.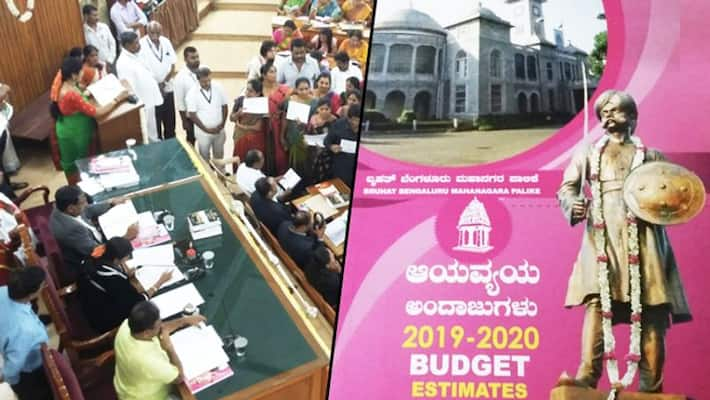 Bengaluru: Ahead of the Lok Sabha election, Bruhat Bengaluru Mahanagara Palike (BBMP) has allocated Rs 10687.79 crore in 2019-2010 for the development and maintenance of its 198 wards.
From free Wi-Fi to total tax rebate for defence personnel to funds for garbage processing units, houses for SC/ST, minorities and backward community, dialysis unit in each of the 27 Assembly constituencies and funds to hospitals like Jayadeva, KIDWAI and others, BBMP's ruling Congress-JD(S) has included all. However, this budget seems more like a preparation for Lok Sabha.
BBMP Tax and Finance Committee Chairman Hemalatha is of the opinion that the Palike will be able to fulfil its promise mentioned in the Budget as they hope to receive Rs 3,500 crore in revenue from 19 lakh properties. Apart from this, the BBMP expects a revenue of Rs 400 crore from high value generating properties likes commercial complexes, tech parks, malls, and multi-storied buildings. BBMP also sees revenue potential from optic fibre cable companies and expects to collect Rs 175 crore. "We also hope to get Rs 3606.11 crore from central and state government grants," she said.
Major allotments of BBMP funds:
Targeting SC/ST votes, the BBMP has allocated Rs 30 crore for setting up of RO plants, Rs 100 crore for SC/ST as financial assistance and in order to build individual houses.
BBMP has also set aside Rs 80 crore for road, drainage and other civil work in areas inhabited majorly by SC/ST communities.
Rs 10 lakh in each ward will be provided to implement women-centric programmes.
Rs 3 crore for mobile buses to conduct cancer tests under Arogya Kavacha scheme was announced. 
50% subsidy to women of the economically weaker sections of society to set up mobile canteens.
Rs 1 lakh will be awarded to the parents of the first girl child born on 1 January in 24 BBMP hospitals
Rs 75 crore for welfare for the disabled and Rs 1 crore for transgender welfare was also announced
Apart from this, the Budget also offered cash incentives of Rs 25,000 for 150 SSLC toppers, Rs 35,000 to 100 2nd PUC toppers, Rs 1.5 crore for BBMP schools for study tours, and Rs 1 crore for medical treatment of students of BBMP schools.
The Palike also announced Rs 25 crore for kidney dialysis in all 27 assembly constituency segments, and Rs 4 crore for free stents for heart patients.
Also, apart from showering funds for Ambedkar Jayanti and Kempegowda Day, the Palike will also spend Rs 5 crore to set up a bronze statue in memory of Siddaganga seer Dr Shivakumara Swamiji and will also spend Rs 50 crore to construct a flyover from Chord Road to Kurubarahalli and build a bronze statue in the name of Balagangadharanatha Swamiji. 
Budget on projects:
As roads, drains, and other civic work in each ward is generally the main focus of the Budget, a total of Rs 465 crore has been allocated. Rs 3 crore for wards in newly added zones and Rs 2 crore for wards in old zones will be provided.
To prevent flooding in low lying areas, Rs 25 crore has been allocated for maintaining stormwater drains.
Not to depend on government grants for ward-work, Rs 125 crore has been allocated to develop the ITBT corridor in the city.
Rs 142 crores for maintenance of arterial and sub-arterial roads was also apportioned.
5 lakh new LED street lights will see the light of day as BBMP has allotted Rs 42 crore for its installation and maintenance.
To increase the green cover and improve the air quality the BBMP has proposed maintenance of parks, medians, flyovers, and junctions of East, South, West Zones. A total of Rs 24 crore has been allocated for this purpose.
This apart, two nurseries will be established in each BBMP zone. Each nursery will have 10 lakh sapling capacity. Rs 5 crore will be used for plantation.
A grant of Rs 25 crore has been allocated for developing and maintaining BBMP lakes.
BBMP Opposition Party leader Padmanabha Reddy criticised the budget and termed it 'bogus'. Reddy claims that the budget is unfavourable to those wards governed by the BJP. He also expressed doubts over mobilisation of the funds by both the BBMP and the state government.
"I also have my doubts that these grants will be mobilised by the government. The Palike is expecting over Rs 3,500 crore, but it will not receive it as so far, both the state and the BBMP have failed in resource mobilisation."  
Last Updated Feb 18, 2019, 8:41 PM IST