Zomato CEO Deepinder Goyal shares his fitness journey as he loses 15 kg | Check viral post
Zomato's founder and CEO, Deepinder Goyal recently shared a glance into his own personal fitness journey. In an Instagram post, he shared before and after pictures from 2019 and 2023. Check out viral posts.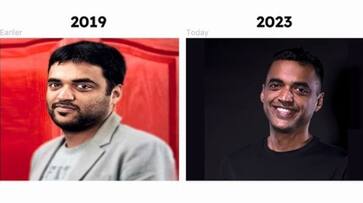 Diseases and disorders that are brought on by a poor lifestyle have increased. People are choosing healthier diets and more organised routines as they become more aware of what they put in their bodies. Most individuals have also included some form of physical activity into their life. Fitness is gradually rising to the top of the priority list.
Deepinder Goyal, the CEO of Zomato, is one among them as well. He used Instagram to share glimpses of his fitness progress with the public. Two post-it notes, one from 2019 and the other from 2023, were shared by Goyal.
His weight, cholesterol level, and body fat percentage were noted on the notes. Goyal reduced his weight from 87 kg in 2019 to 72 kg in 2023. His body fat percentage and cholesterol levels dropped as well.
Also Read | Vegan raw food influencer Zhanna Samsonova's death due to 'starvation' sparks concerns over extreme diets
"In 2019, a few months before the pandemic, I started treating my health as an equal priority to my work. Nothing extreme but just maintained consistency. Highlight of 2019 vs 2023 results," read the caption of the post.
In a blog post, Goyal described how he lost 15 kg in 4 years. I started keeping track of my carb consumption, followed a healthy diet (all Zomato orders because home-cooked Indian food is very high in carbohydrates), and worked out frequently.
Also Read | Unveiling hidden dangers - 8 surprising risk factors for Lung Cancer you should be aware of
"I never did anything excessive, but I did indulge occasionally on the weekends in foods like chole bhature, butter chicken, gulab jamun, and other sweets. But generally, compared to my old behaviours, I consistently displayed more healthier conduct each week. My physical and mental health have improved as a result of consistency without extremes," he continued.
Goyal's admirers were really moved by his metamorphosis and gave him high accolades in the comments.
Last Updated Aug 1, 2023, 1:50 PM IST