World Stroke Day 2023: What is Ischemic Stroke? Understanding the silent threat
On World Stroke Day 2023, let us know about the two main types of stroke, with the more common one involving a blocked blood vessel – called Ischemic Stroke, leading to damage to the nervous system, usually the brain.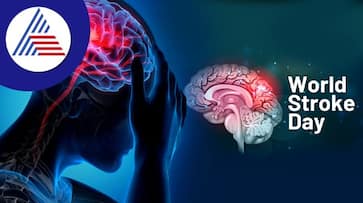 Stroke is an acute neurological condition characterized by a lack of blood supply to the nervous system, partially or entirely. There are two main types of stroke, with the more common one involving a blocked blood vessel – called Ischemic Stroke, leading to damage to the nervous system, usually the brain. It's a catastrophic condition that can result in significant disability or even death, making it the leading cause of disability among hospitalized patients. Recognizing stroke symptoms early and seeking immediate medical attention is paramount to reverse stroke potentially.
Warning Signs & Symptoms to Look For:
In stroke, the symptoms can be termed with the acronym - F.A.S.T. (Facial weakness, Arm weakness, Speech difficulty, and Time), and any of the above indicates a person having a stroke in 90% of the cases. In simpler terms, common ischemic stroke symptoms include weakness on one side of the body, particularly the arm or leg, and sudden loss of speech. In such cases, there's no time to waste – the patient must be rushed to the nearest hospital for a CT or MRI scan to determine the appropriate treatment.
Also Read: WORLD STROKE DAY 2023: DAY, HISTORY AND SIGNIFICANCE
Known Risk Factors:
The risk factors for stroke closely resemble those of heart attacks and include high blood pressure, diabetes, smoking, excessive alcohol consumption, sedentary lifestyle, and obesity. Stroke in the young (between 30-40 years of age group) is largely attributed to all of these modifiable lifestyle factors.
Stress is one of the associated reasons for stroke in the young, because of the job pressure leading to reduced relaxation hours and sleep. Stress has a direct impact on blood pressure and blood sugar levels and cholesterol. Obstructive sleep apnea, often under-recognized, can also contribute to stroke risk by lowering blood oxygen levels during sleep.
Management of Stroke:
Early detection of stroke is crucial for better patient outcomes. The Golden Hour in stroke care refers to the critical time frame during which administering treatment yields the best results. Recent advancements in stroke care have revolutionized stroke care with two key treatment modalities for blocked blood vessels causing strokes.
The first is intravenous thrombolysis, which involves administering a drug that dissolves clots and restores blood flow to the brain. This treatment should be initiated within 3 to 4.5 hours of symptom onset. Ideally, the earlier the drug is administered, the better the outcome will be! This emphasizes the need for rapid identification of stroke symptoms and prompt hospitalization.
The second treatment is mechanical thrombectomy, a procedure similar to angioplasty in heart care, wherein a wire is guided through blood vessels from the legs all the way to the brain to remove clots. If either of these procedures is performed successfully promptly, the patient's prognosis is notably improved.
Long-term stroke management is equally important, focusing on controlling blood pressure and diabetes and lifestyle modifications such as quitting smoking, reducing alcohol consumption, and staying physically active. Prevention through risk factor control is more effective than seeking a cure after the fact.
Rapid Response:
In the case of a stroke, long travel distances to reach a hospital are not feasible, especially in traffic-prone areas like Bangalore. At Manipal Hospitals, the recently introduced SOS QR Code can play a pivotal role in preventing strokes. It enables rapid ambulance dispatch by pinpointing the patient's location and directing them to the nearest stroke-ready hospital. Also, the ambulance can alert the hospital's emergency room, enabling them to be ready and reducing the time of treatment initiation (called "door to needle").
Minimizing the delay between symptom onset and treatment initiation is essential in stroke care. In conclusion, the major takeaway message of this World Stroke Day would be to identify stroke symptoms early and get the patient to the hospital on time.
(This article is authored by Dr. Jayachandran R, Consultant - Neurology, Manipal Hospital Millers Road.)
Last Updated Oct 29, 2023, 9:12 AM IST