What is Hoshana Raba ritual held at end of week-long Sukkot? Know more about this Jewish festival
Hoshana Raba, the culmination of Sukkot in Israel, involves unique customs like penitential prayers, circling the bimah with the Four Species, and symbolizing repentance with willow branches. It holds deep spiritual significance, marking a day of intense prayer, seeking divine blessings and mercy, and sealing the year's verdict for Jewish communities in Israel and worldwide. This ritual fosters communal unity and strengthens Jewish faith and heritage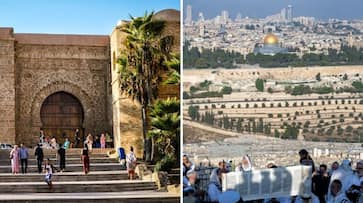 Hoshana Raba is a significant Jewish ritual celebrated at the culmination of the week-long festival of Sukkot in Israel. This unique observance falls on the seventh day of Sukkot, which is also known as the "Great Hoshana." While Sukkot itself is a holiday marked by the building of temporary sukkahs (booths) and the waving of the "Four Species," Hoshana Raba adds an extra layer of spiritual significance to the festivities. The name "Hoshana Raba" means "Great Salvation," highlighting its importance as a day of prayer, reflection, and devotion.
Observance and Customs
Hoshana Raba is characterized by distinctive customs that set it apart from the rest of Sukkot. One of the most notable practices is the recitation of special penitential prayers known as "Selichot." These prayers are recited early in the morning, and they focus on seeking forgiveness and divine mercy. Another central custom involves the circling of the synagogue's bimah (a raised platform) seven times while holding the "Four Species" – the etrog (citron), lulav (palm branch), hadass (myrtle), and aravah (willow). This ritual is accompanied by the recitation of prayers called "Hoshanot," which are supplications for salvation and blessings.
Spiritual Significance
Hoshana Raba holds deep spiritual significance for Jewish communities in Israel and around the world. It is believed that on this day, the final verdict for the year's blessings and divine judgments is sealed. Consequently, many people devote themselves to intense prayer and introspection, seeking to reconcile with their Creator and secure a favorable outcome. The act of circling the bimah with the Four Species symbolizes a request for abundant rain in the coming year, which is crucial for agricultural success in Israel.
ALSO READ: World Cotton Day 2023: How cotton helps in creating comfortable homes
Furthermore, during Hoshana Raba, the beating of willow branches on the ground is a symbolic act of beseeching the removal of sins, and it is done as a means of repentance. The atmosphere is one of spiritual urgency and earnest pleas for divine mercy, making Hoshana Raba a profound culmination to the joyous Sukkot festival. In Israel, this ritual not only reinforces Jewish faith and heritage but also fosters a sense of communal unity as families and communities come together in fervent prayer and reflection.
Last Updated Oct 7, 2023, 5:30 PM IST