Skin Care: 5 revolutionary benefits of Groundnut Oil daily
Groundnut oil, also known as peanut oil, can offer several benefits for your skin when used appropriately. To use groundnut oil on your skin, apply a small amount to the desired area and massage it gently. You can also mix it with other natural ingredients like honey or yoghurt for homemade skincare masks.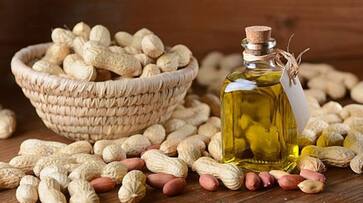 The vitamin E helps maintain good skin health, making it look young and healthy. It prevents premature ageing, wrinkles, and marks caused by free radicals. Resveratrol in groundnuts decreases blood pressure and slows down cognitive disorders like dementia and Alzheimer's disease. Groundnut oil has anti-ageing benefits and is high in vitamin E. This oil helps diminish signs of ageing, such as dark spots, fine lines, wrinkles, uneven skin, and pigmentation. It protects free radicals from causing premature ageing, wrinkles, and blemishes. A groundnut oil massage is soothing and energising and can help relieve muscle pain. When applied regularly, this provides excellent comfort for painful muscles and joints. Groundnut oil is a good way to nurture your baby's skin. It is used in aromatherapy. Groundnut oil benefits as a relaxing and rejuvenating massage oil.
ALSO READ: 5 tasty Side Dishes that are perfect with Curd Rice
Here are 5 revolutionary benefits of Groundnut Oil daily:
1. Moisturization:
Groundnut oil is rich in vitamin E and healthy monounsaturated fats. These properties make it an excellent natural moisturizer. Applying it to your skin can help lock in moisture and prevent dryness.
2. Anti-Ageing:
The antioxidants, particularly vitamin E, found in groundnut oil can help combat free radicals that cause premature ageing. Regular use may reduce the appearance of fine lines and wrinkles, keeping your skin looking youthful.
3. Soothing Properties:
Groundnut oil has anti-inflammatory properties. It can soothe irritated skin and reduce redness and itching. It's often used in skincare to alleviate conditions like eczema and psoriasis.
4. Skin Nourishment:
This oil contains essential nutrients like magnesium, potassium, and zinc, which are vital for healthy skin. It nourishes your skin from within, promoting a radiant complexion.
5. Natural Cleanser:
Groundnut oil can be used as a natural makeup remover and cleanser. Its gentle properties help to dissolve makeup and impurities without over-drying your skin.
ALSO READ: Skin Care: 5 surprising benefits of Almond Butter which can increase softness
Last Updated Sep 1, 2023, 7:20 PM IST