Roti, Butter Garlic Naan, Parantha named among 50 best breads in the world
Indian flatbreads are best, thanks to their rich texture and flavour. Recently, a renowned food guide dropped a list top 50 breads in the world and the list features India's butter garlic naan, Amritsari kulcha, roti and paratha from India.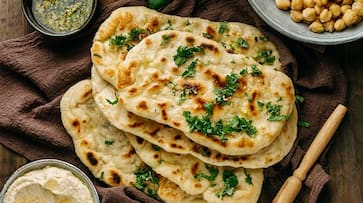 Bread is a common ingredient in kitchens all across the world. Breads come in a variety of varieties, including plain, filled, leavened, and unleavened. And practically all varieties are delicious, especially when served with the proper meals. The numerous varieties that may be found in every nation demonstrate the bread's adaptability. You may discover a huge variety of breads with various sizes, textures, and tastes only in India. We love our breads, from roti to naan, and it appears that the rest of the world does too. 
The food and travel publication Taste Atlas has published yet another list honouring the world's finest dishes, this time for the greatest breads. The fact that five Indian breads are included in the list of 50 breads from various nations is notable.   
Butter Garlic Naan bagged the third spot on the list. Interestingly, butter garlic naan had been selected by Taste Atlas earlier also among the 50 best flatbreads in the world.  It's interesting to note that Taste Atlas had previously listed butter garlic naan as one of the top 50 flatbreads in the world. The naan flavoured with garlic and lusciously served with butter is undoubtedly one of the tastiest breads we have eaten. Even plain naan was included in the list at the 8th position, which was named the fourth-best flatbread in the previous list. 
We are not surprised that Paratha managed to sneak onto both lists. Anyone who eats the indispensable morning item will be impressed. Amritsari kulcha has to be on the list due to its rich and delicious flavour. The staple of the typical Indian diet, the modest roti, came in at number 27, directly behind the Amritsari kulcha.  
 
Last Updated Sep 11, 2023, 1:52 PM IST