Raksha Bandhan 2023: 10 beautiful mehendi design ideas for rakhi
The rich brown tones of mehendi resonate with the enduring love and commitment siblings promise, embodying the essence of Rakhi. These 10 captivating designs enhance the festive spirit of Raksha Bandhan celebrations. - By Mahasweta Sarkar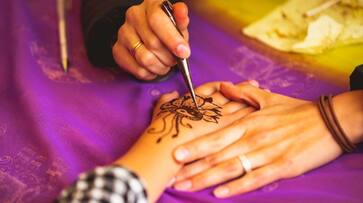 Mehendi holds an integral place in the heartwarming celebration of Rakhi, enhancing the festive aura with its intricate elegance. Raksha Bandhan, a cherished Indian festival, symbolizes the bond between siblings. As sisters lovingly tie sacred threads on their brothers' wrists, the art of adorning hands with mehendi becomes a vibrant tradition. This ancient practice not only beautifies hands but also signifies the inseparable connection between siblings.
Here are some beautiful mehendi designs for rakhi:
ALSO READ: Raksha Bandhan wishes: Here are quotes, Images, greetings, WhatsApp messages, Facebook and Instagram status
1. Simple Flower Vines
Arabic mehndi designs draw significant inspiration from floral patterns, paisleys, and gracefully flowing diagonal lines. Among these, the elegantly simple yet captivating floral vines stand out as the perfect choice to adorn hands during this festive season. With their clean and refined appearance, these floral vines strike a balance between grandeur and subtlety, making them an ideal option for celebrating special occasions.
2. Lotus Motif
Among the array of exquisite flowing bells, leaves, blooming florals, and roses, the lotus motif shines as one of the most cherished and remarkable mehndi designs. Its popularity knows no bounds, gracing both hands and feet with its intricate beauty.
3. Jali Mandala
The combination of jaal (net) patterns and mandalas is truly extraordinary. This fusion brilliantly captures the harmony between minimalism and extravagant elements, resulting in a phenomenal design that harmonizes the two seamlessly.
4. Dainty Flowers
Opt for a mehndi pattern that weaves in the essence of luck, prosperity, and affection—much like these intricate flower vines, which elegantly adorn your palms and fingers, symbolizing blessings and beauty.
5. Floral Arabic
The allure of Arabic mehndi patterns lies in their unmatched capacity to enchant the observer with their intricate depictions of flowers, leaves, and lattice motifs. These designs are celebrated for their effortlessly flowing trails and stylish presentation, making them a symbol of artistic finesse.
6. Minimal Lotus Mandala
We are enamored by this pristine and sophisticated lotus mehndi design for hands, radiating an exceptionally stunning aura. The exquisite lotus blossoms artfully traced across the palm have left us utterly captivated and in awe.
7. Fill Up Your Fingers
Over the years, we've come across numerous mehndi designs, yet it's the ones adorning the fingers that have won over millions of hearts. These designs masterfully combine lush vines, exuding an air of sophistication and beauty that's truly captivating.
8. Floral Mandala
Mandalas featuring a sleek central circle exude a regal charm, gracing the hands with an air of elegance. These designs are an ideal choice for those seeking a lavishly adorned henna look without the need for excessive application.
9. Khafif Design
Derived from Arabic, "Khafif" encompasses the meanings of intricacy, complexity, and entanglement. This term is frequently employed to describe dainty and delicate mehndi designs, characterized by their distinctive patterns and styles that demand meticulous attention to the intricate detailing and embellishment of each motif.
10. Single Vine Wraps
Undoubtedly, a meticulously detailed henna design never fails to capture our admiration. Yet, there's an undeniable allure in the graceful flower and leaf vine that elegantly embraces the finger before trailing along the hand—a choice that holds universal appeal and deserves consideration by all.
The rich brown hues of mehendi echo the everlasting affection and protection siblings promise to one another, embodying the spirit of Rakhi. This union of tradition and artistry paints Rakhi with colors of love, strengthening the sibling bond. Embrace the exquisite art of Mehndi and add an unforgettable touch to your Raksha Bandhan celebrations with these 10 captivating designs tailored to diverse preferences, igniting the festive fervor within.
ALSO READ: Raksha Bandhan 2023: Significance, puja rituals, auspicious timings, Mantra
Last Updated Aug 30, 2023, 11:07 AM IST