Navratri 2023 food delights: 10 temples that serve special prasad
Temples across the country prepare special prasad (offering) during this auspicious period of Navratri that is not only delicious but also holds immense religious significance.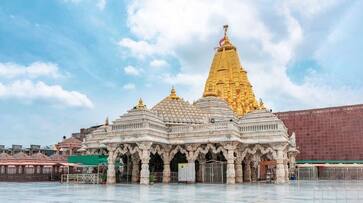 Navratri, one of India's most revered and vibrant festivals, is not only a time for devotional worship but also a celebration of culinary delights. Temples across the country prepare special prasad (offering) during this auspicious period that is not only delicious but also holds immense religious significance. These delectable offerings are considered blessed and are eagerly awaited by devotees. Let's embark on a culinary journey to discover temples known for their unique Navratri prasad and the significance of partaking in these blessed offerings.
1. Kolkata's Belur Math: Khichdi and Labra
At Belur Math, the headquarters of the Ramakrishna Math and Ramakrishna Mission, Navratri prasad is a simple yet divine affair. Devotees are served khichdi (a one-pot meal of rice and lentils) and labra (a mixed vegetable curry). This humble meal symbolizes purity and simplicity, aligning with the spiritual essence of Navratri.
2. Maa Vaishno Devi, Katra: Rock-Salt Puri and Sabzi
The prasad at the famous Vaishno Devi Temple in Katra, Jammu, includes rock-salt puris (deep-fried bread) and sabzi (vegetable curry). The inclusion of rock salt is significant, as it represents purity and the removal of impurities from one's soul.
3. Ambaji Temple, Gujarat: Sabudana Khichdi
Sabudana khichdi, a dish made from tapioca pearls, is a popular Navratri prasad at the Ambaji Temple in Gujarat. It is not only a delicious treat but also provides the necessary sustenance during fasting. Sabudana signifies the sustenance of the body and the soul.
4. Kalkaji Temple, Delhi: Singhare Atta Halwa
The Kalkaji Temple in Delhi offers singhare atta halwa (water chestnut flour pudding) as Navratri prasad. Singhare atta is considered pure and is free from impurities, making it an ideal choice for a sacred offering.
5. Mansa Devi Temple, Haridwar: Kuttu Ki Puri and Aloo Sabzi
The Mansa Devi Temple in Haridwar serves kuttu ki puri (buckwheat flour bread) and aloo sabzi (potato curry) as prasad. Buckwheat is known for its health benefits and is considered a wholesome food for fasting.
6. Mumbarka Temple, Himachal Pradesh: Banana Kheer
The Mumbarka Temple in Himachal Pradesh offers a unique Navratri prasad, banana kheer (a milk-based dessert). Bananas are considered pure and are often offered to deities during fasts.
7. Chattarpur Temple, Delhi: Makhana Kheer
Makhana kheer (foxnut pudding) is a special Navratri prasad at the Chattarpur Temple in Delhi. Makhana is known for its purity and is a favored ingredient during fasting.
8. Shree Mangueshi Temple, Goa: Sabudana Wada
The Shree Mangueshi Temple in Goa serves sabudana wada (deep-fried tapioca fritters) as Navratri prasad. These crispy treats are enjoyed by devotees during the fasting period.
9. Dakshineswar Kali Temple, Kolkata: Makhana and Banana
At the Dakshineswar Kali Temple in Kolkata, devotees are offered makhana (foxnuts) and bananas as prasad. These items are considered pure and are consumed after fasting.
10. Goddess Kamakhya Temple, Assam: Rice and Sweet Pongal
The Kamakhya Temple in Assam offers rice and sweet pongal as Navratri prasad. Pongal is a sweet rice dish that signifies the sweetness of devotion and the harvest season.
Partaking in these blessed offerings not only pleases the palate but also connects devotees with the divine during the sacred period of Navratri. These special prasads symbolize purity, simplicity, and sustenance, aligning with the spiritual essence of the festival. So, when you visit these temples during Navratri, don't forget to savor these culinary delights that have been touched by the divine.
May your Navratri be filled with devotion, blessings, and delicious prasad!
Last Updated Oct 16, 2023, 1:40 PM IST