Karwa Chauth 2023 date: Is it on 31st october or 1st November?
Karwa Chauth, celebrated on Kartik's Krishna Paksha Chaturthi, is a significant Hindu festival, mainly observed in North India for the well-being of husbands. It involves a day-long, waterless fast, special prayers, and moon sightings, with key states being Rajasthan, Uttar Pradesh, Punjab, Haryana, Madhya Pradesh, Himachal Pradesh, and Delhi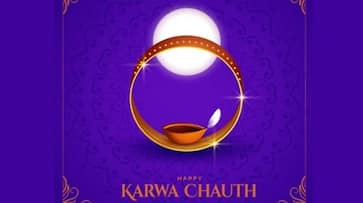 Karwa Chauth is a significant Hindu festival observed by married women to pray for the long lives, prosperity, and safety of their husbands. Karwa Chauth is celebrated on the Chaturthi (fourth day) of the Krishna Paksha (waning phase of the moon) in the Hindu month of Kartik. The festival also coincides with Sankashti Chaturthi, which is dedicated to the worship of Lord Ganesha. While Karwa Chauth is celebrated on the same day across the country, there can be regional variations in the way it is observed, particularly in states like Gujarat, Maharashtra, and South India, where the Amant calendar is followed. In these regions, Hindus believe that Karwa Chauth falls in the month of Ashwin.
Married women traditionally observe a challenging nirjala fast during Karwa Chauth, which means they abstain from both food and water from sunrise until they sight the moon in the evening. The fast is kept to seek the well-being and longevity of their husbands. Women often come together to perform the Karwa Chauth puja, recite the story of Karwa Chauth, and conclude the fast by consuming a morsel of food and a sip of water from their husbands' hands. During the puja, they also worship deities such as Lord Ganesha, Maa Parvati, Lord Shiva, and Lord Kartikeya.
In 2023, according to Drik Panchang, Karwa Chauth falls on Wednesday, November 1st. The Karwa Chauth puja time will be observed from 5:36 pm to 6:54 pm, and the fasting time is from 6:33 am to 8:15 pm. The moonrise time is at 8:15 pm. The Chaturthi tithi begins on October 31 at 9:30 pm and ends on November 1 at 9:19 pm.
Citywise Puja Muhurat for Karwa Chauth 2023:
New Delhi: 5:36 pm to 6:54 pm
Pune: 6:02 pm to 7:17 pm
Chennai: 5:42 pm to 6:56 pm
Kolkata: 4:59 pm to 6:15 pm
Hyderabad: 5:45 pm to 7:00 pm
Ahmedabad: 6:02 pm to 7:18 pm
Noida: 5:36 pm to 6:53 pm
Jaipur: 5:44 pm to 7:02 pm
Mumbai: 6:05 pm to 7:21 pm
Gurgaon: 5:37 pm to 6:55 pm
Bengaluru: 5:53 pm to 7:07 pm
Chandigarh: 5:35 pm to 6:54 pm
Karwa Chauth holds special significance in the northern regions of India, including states such as Rajasthan, Uttar Pradesh, Punjab, Haryana, Madhya Pradesh, Himachal Pradesh, and the country's capital city, Delhi. It is a cherished occasion that symbolizes the love and devotion of married women towards their husbands and is celebrated with great enthusiasm and rituals.
Last Updated Oct 25, 2023, 11:44 AM IST