Karwa Chauth 2023: 7 things to consume after breaking fast
After breaking your Karwa Chauth fast, prioritize easily digestible foods to replenish energy and hydration. Opt for water, dates for quick natural sugars, fruit chaat for nutrients, soothing soup, probiotic-rich yogurt, light vegetable pulao, and cracked wheat kheer for a sweet finish. Eat mindfully, start small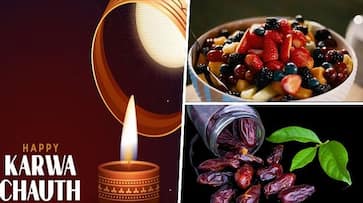 After breaking your Karwa Chauth fast, it's essential to choose foods that are easily digestible and provide your body with the necessary nutrients to replenish your energy. Here are seven things you can consider eating after breaking your Karwa Chauth fast:
Water: Start by hydrating yourself with a glass of water. It's essential to rehydrate after a day of fasting.

Dates: Breaking your fast with a couple of dates is a common tradition. Dates provide a quick source of natural sugars for an immediate energy boost.

Fruit Chaat: A fruit chaat made with a mix of fresh fruits like apples, bananas, pomegranate seeds, and oranges can be a refreshing and nutritious choice.

Soup: A warm, clear vegetable or chicken soup can be soothing and easy on the stomach after a day of fasting.

Yogurt: A small bowl of yogurt or a glass of buttermilk is a good source of probiotics and can help in digestion. You can add a pinch of salt or sugar for flavor.

Vegetable Pulao: A light vegetable pulao made with fragrant rice and a variety of vegetables can be a wholesome and tasty option. Avoid heavy or overly spicy foods.

Dalia (Cracked Wheat) Kheer: A dessert made from cracked wheat, milk, and a touch of sugar can be a sweet and nutritious way to end your meal.
Remember to eat slowly and mindfully to avoid any digestive discomfort. It's also a good idea to start with small portions and gradually increase the quantity if you feel comfortable. Additionally, consult with your healthcare provider or a nutritionist for more personalized dietary recommendations after fasting.
ALSO READ: Karwa Chauth 2023: 7 must have elements in Sargi thali
Last Updated Oct 30, 2023, 3:55 PM IST