Fashion Designer Gaurang Shah talks about his idea behind Raja Ravi Varma project
In 2017, Lavnina introduced me to the Raja Ravi Varma Heritage Foundation with the aim of recreating Varma's works on Khadi saris as a combined reverence to the artist, and Mahatma Gandhi who transformed the use of Khadi.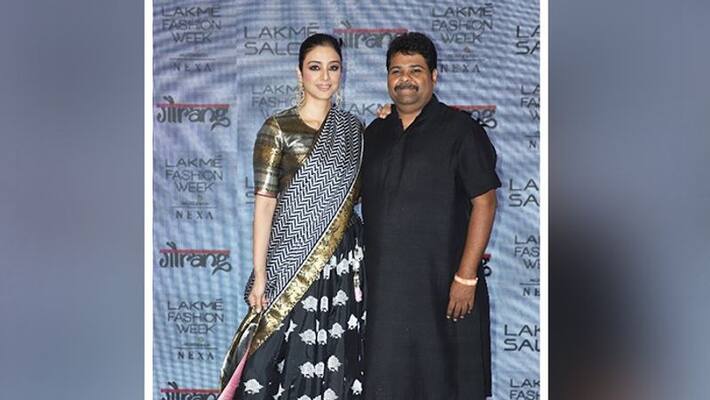 The story goes back to 2016 when I recreated 6 paintings of Laxman Aelay on saris using Jamdani. One of the customers was Lavina Baldota, from Baldota (Abheraj) Foundation. She liked my creation and proposed we collaborate in the future on a much grandeur and unique project where 2 artforms bring beautiful inspiring synergy.
In 2017, Lavnina introduced me to the Raja Ravi Varma Heritage Foundation with the aim of recreating Varma's works on Khadi saris as a combined reverence to the artist, and Mahatma Gandhi who transformed the use of Khadi.
The project, Khadi, A Canvas took over 2 years and involved a precise replication of Raja Ravi Varma's unseen paintings woven onto the pallu of the sari, using the Srikakulam Jamdani technique. What was even more exciting was to discover, Mahatma Gandhiji's birth anniversary concurs with Raja Varma's death anniversary—a connection that led us to announce "Santati".
 It was an idea that was hugely inspiring but was worth the test as we were weaving 30 paintings of Raja Ravi Varma which people have never seen in Khadi Sari Pallu.
The journey of Recreating Raja Ravi Varma iconic paintings on Khadi Saree Pallu.
Our fundamental approach was to choose those paintings that people have not seen or lesser-known. So we shortlisted 54 oleographs. Of which we wove 33 saris with paintings of Raja Ravi Varma in the pallu, all interwoven in Khadi, in natural dyes. The paintings were chosen in three categories: women in Raja Ravi Varma Paintings, Gods, and Goddesses and stories.
To begin with, it took over 6 months of research. We had to begin to create 600 shades of colors because Raja Ravi Varma used only natural colors for his paintings in combinations of four primary colors, so we had to do everything with natural dyes to replicate the paintings in Khadi and recreate the same colors on the portraits and dyed over 200 kgs of yarn. 
Our choice of using the Srikakulam Jamdani technique made it possible to create the entire pattern without repetitions. While few of the sari took 3 months, the intricate paintings took more than 10 months to create. 
The challenges were unique. 
The first thing we observed, Ravi Varma's paintings are made of curved brush strokes and it was a herculean task to train our weavers to reconstruct his masterpieces. So for a painting that was small, we had blown it up to almost to 40 inches to capture the details, shades of color, texture, and patterns.
 The next big thing we had to tackle was to find the right pool of weavers to work on the saris. Weavers who were masters of on paper Jamdani, where they print six meters of paper (length of a sari) and put it under the warp, look at it and weave it. We were fortunate to identify and engage 20 families.
Besides using 150 counts fine Khadi, finding the right dyes and matching them according to the saris was another task. We took big printouts of the artworks. In some saris we realised the artwork came out on the opposite side; In fact, all the three saris that came out of the loom initially were reverse. In some saris, the color combinations did not come out well. So, we had to rework our strategy, design and loom setting to get the closest replica of the artwork. 
We had to create 600 color shades all in natural dyes to look original when we set out to weave every single sari. This in itself was a long-drawn painstaking process, the yarn colors ranging from pastel pinks to luminescent was equally challenging to bring-about. Another thing we had to confront was to replicate the facial expression of every single character in the paintings and the fall of their clothing as seen in the paintings through jamdani weaves.
GAURANG and his work in Movies
Movies and movie stars have a huge impact in setting fashion trends. Fashion trendsetters like Sonam Kapoor, Kirron Kher, Vidya Balan have certainly helped handlooms fashion wardrobe revival. To cite an example the saree Kirron Kher wore in 'India Got Talent' is among the most sought after in our stores. Likewise, sarees worn by Vidya Balan have left lasting impressions amongst women who love handlooms and sari innovations.
For the movie Savitri our line of costumes for Keerthy Suresh in the movie which integrated silks fabrics from different parts of India like Kanchipuram, Benares which were enhanced with Kota, mangalgiri and block prints that were then handcrafted in our looms by a dedicated team of more than 100 local artisans continue to be a rage amongst our clients.
The journey involved - exploring and recreating textiles to weave her journey from her childhood to her passing away. From mangalgiri's and kota's with prints for her growing days to heavy brocades, silks, organza's and handwoven sateen's, chiffons for her golden era to subtle rendition for her later life.
Our team travelled extensively to museums and recreated the textiles of that time. Each and every detail of the textile, design, texture, and color were studied and artisans were guided to recreate it. The outcome was immensely satisfying and set new trends in Handlooms innovation – recreating old fashion classics.
Sonam Kapoor deserves a special mention for advocating handloom outfits. She has brought attention to handloom garments in a big way and continues to be an admirer of our work.
GAURANG take on Sustainable Fashion in India
I believe handlooms are sustainable, and Indian Jamdani creations are timeless, and continue to have inventive appeal even today. That's why you will find a saree passed on to generations.
Indian Jamdani Weaving holds tremendous potential as art. It has given birth to innumerable timeless and inventive, fabrics and fashion pieces. In recent times, designers and weavers have expanded its legacy to a wider audience, highlighting its versatility, and inventive potential.
Since, beginning the essence of Jamdani has seen heart-warming transformation - following three metaphorical threads that overlay its sensuous surface: the art, the artisan and the patron.
In 2019 and beyond in the weaving process you will witness alteration of technique, the subtlest changes in yarn or number of threads, elusive hint of a new color, and diverse pattern and texture. You will find fresh appeal in Dhakai, Kota, Paithan, Kanchi, Banarasi, and a new hybrid genre that allows for complex patterns and designs never attempted on the Jamdani loom.
What Next for Brand GAURANG?
After my dream project Khadi, a Canvas, recreating Raja Ravi Varma's iconic paintings into khadi jamdani sari. My aim is to showcase these woven masterpieces in the world museum. The showcase made its debut at Santati in the NGMA art gallery in Mumbai.
Khadi a Canvas will travel to other cities of India and then move to other parts of the world.
I am also keen to expand my vision 'Interlace' Our series 'Interlace,' where we explore the enduring legacy of ancient Indian Jamdani technique, focussing on the period from the 1900s to the present day, will begin its travel to other cities.
The debut show in Delhi in December 2018 showcased, a matchless interweave of age-old tradition and constant revival, Jamdani–the flower vase–survives as a living relic of a glorious legacy. It celebrates the beauty of the artistry passed on to us, despite all odds, by those who came before. This we hope will lead us to create the first ever–'Indian Jamdani Museum'. Celebrating the ancient weaving technique and its evolution.
I want people to understand how adaptable Indian Jamdani weaving is, and about our continuing relationships with Jamdani legacy today. There are limitless experiments and new ways of challenging this status quo. That is what I am trying to showcase through Interlace series collections.
Interlace answers many questions - What is it about ancient art that still provokes the contemporary imagination? How does it help us see classic weaving forms with new eyes? The line of 41 different 6 yards fabric is a quest to rethink the 'classical' through the lens of the 'modern' and 'contemporary' which takes months and sometimes more than a year to create.
Inventive things due for arrival from our looms are Paithani. It will not only be contemporary, but it will also be a timeless sari.
Besides, new color scape, alluring with sarees in chocolate brown gold zari weft with sunflowers. Our collections encompass violet warp with gold zari weft and pink roses and a navy blue with silver weft. I promise you these are Paithani sarees never imagined before.
Our international foray got two additions, we opened our brand store in London and in Manhattan, US.
Innovations during COVID pandemic
As a brand we have expanded our outreach beyond stores for the first time. We have launched our online e-store which will showcase our entire range of products for all occasions. We have also created a BY INVITE e-store within our online offering to our premium range of bridal, heavy dresses and festive specials.
Last Updated Aug 5, 2020, 3:11 PM IST