Enhance the life of your wedding gowns and make them last for your generations
Fashion designer Rachel J Amritharaj, known for creating the most exquisite gowns shares effective ways to enhance the life of your wedding gown.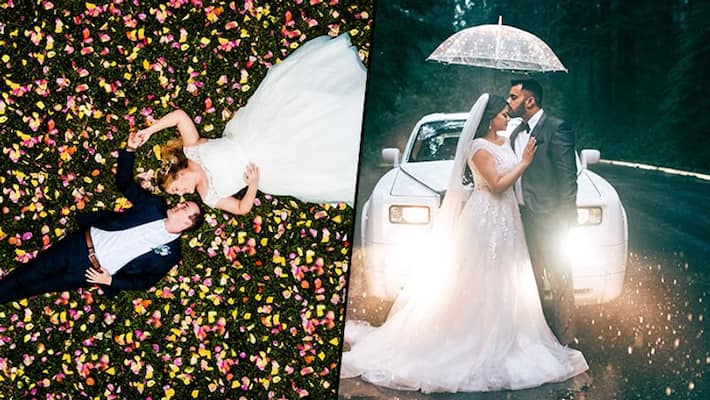 This remains an inherent desire for every girl to look most beautiful on her wedding day, and the wedding dress plays the most important part in accentuating your look and embellishing your makeovers.
Your wedding gown, veil, and keepsakes create memories that you cherish for a lifetime, and you can preserve the beautiful pieces for future generations as well. Fashion designer Rachel J Amirtharaj, known for creating the most exquisite gowns shares effective ways to enhance the life of your wedding gown.
By being little conscious and careful you can handle your elaborate wedding gowns with ease. Its a thumb rule to protect your wedding gown from light, sun and moisture as much as possible, by doing this you can add years of life to your wedding attire.
Always take down instructions shared by the designer about maintaining the gown while you are purchasing the gown, according to the elements, motifs,rich and fabric of the gown designer can give you good input about their maintenance. Look for special instructions on how to clean any delicate trim, beads, or sequins. 

Says wedding gown designer and founder of La Fantaisie by Rachel~Rachel J Amritharaj, " Every wedding gown should be cleaned before being stored away for more than a few weeks even if it doesn't look soiled. Perspiration, food and drink stains, and makeup stains can show up later and become much more difficult to remove. Look for a professional dry cleaner that specializes in wedding gown preservation. Be sure to point out any stains and any loose trim or buttons. Also discuss, if you know, how the trim is attached to the gown." Some designers use an adhesive that could dissolve during the dry cleaning process.
If the cleaner is going to pack your dress for storage, ask your cleaner to allow you to inspect your gown before it is packed in an acid-free box to help prevent contamination. This will prevent surprises when you open your sealed box years from now.
If your gown is simple and made from fabric that can be hand-washed at home, pretreat the stains and be sure to check the dress well for damage before you store it away. One important tip is to allow the gown to dry completely before packing away to prevent mildew growth. Keep the gown away from both artificial light and natural sunlight to prevent fabric damage.
If you plan to do your own packing of the dress and accessories for storage, be sure every piece is clean and completely dry before storing. Accessories like a belt or headband that have metal buttons or faux jewels and decorations should be stored separately from the fabric items to prevent accidental damage from tarnishing.
As Rachel says further, If possible, wedding dresses should be stored flat in an appropriately-sized container/box. Garments that are left hanging can become misshapen and develop rips and tears from the stress on seams. Never use a regular cardboard box unless it is a storage box labeled for archival storage. These are made of acid-free paper and are perfectly safe to use. Buy the largest size needed because the fewer folds in the dress, the less chance there will be fiber breakage from creases. However, if you cannot find archival storage boxes or if you are concerned about the box getting crushed, purchase a plastic storage box. The box must be made of cast polypropylene to be safe for your fabric. Never store a wedding gown in the plastic bag furnished by a dry cleaner. If you plan to leave the dress hanging, cover it with a white, 100 percent cotton garment bag or make one from a white cotton bed sheet.
You will also need to purchase archival tissue paper. It must be labeled as both acid and lignin-free. You will need the tissue to soften folds, wrap individual pieces, and stuff sleeves and headpieces so they will not be crushed.
Before you begin, wash and dry your hands. No lotion or creams should be used that can stain the pieces. For best results, simply wear clean white cotton gloves. Begin by lightly stuffing the dress shoulders and bust with the acid-free tissue paper to help them hold their shape. Then, lay the gown onto a layer of tissue within the box or container. Be sure that there is plenty of tissue cushioning each fold to prevent heavy creasing. The job will be easier if you have a helper who can hold the dress while you cushion each fold.
Repeat steps with each individual accessory including the veil. Do not overstuff the storage box. You will want to store heavier items like belts and shoes in smaller individual boxes.
Choose a dark, cool, dry space for storage. Avoid extreme temperatures areas like attics, basements, and garages. The ideal spot is an interior space away from exterior walls and pipes that might burst and off the floor away from pets.
Inspect your wedding treasures at least once per year. Look for any stains that may appear and treat them promptly. You will have better success with stain removal the sooner the stains are caught. After inspecting, with clean hands, fold the items slightly differently and cushion with the tissue to minimize crease.
Today, La Fantasie's wedding gowns are both innovative and unmatched. They compete with the best bridal fashion brands. Rachel proudly says, "whenever I bring a smile to a bride attired in La Fantasie brand wedding gown, it soothes my soul. When Happiness shines in the eyes of others due to any of your actions, then you are enjoying an extreme form of achievement and delight".The 7 years of stint in the bridal fashion industry in India has secured Rachel the title of the most influential name in the business. She was felicitated with Ravishing Design Awards 2017-- Incredible Wedding Gown Designer Award.
Rachel's dream and the way she informed , "Fund was a serious issue. Initially, it was tough but I decided to bootstrap. From a stock of 2 gowns, now I have stock of more than 200 gowns. The turnover grew by 5 times in almost 3 years. Sooner I was one of the self-made HNI (High Networth Individual) in India. Meanwhile, I was blessed with the opportunity to work with many celebrities. And got to be the personal stylist of many who's who of Delhi too." 
Last Updated Jun 22, 2020, 9:22 PM IST