Diwali 2023: 6 popular gifting ideas for your loved ones on the occasion
Diwali, aka the Festival of Lights, is a holiday celebrated in India, where it's a shared holiday among Hindus, Sikhs, Jains, and Buddhists. Several countries observe the fifth day of Diwali as a holiday, and celebrations begin on Nov. 12, so here are six popular gift ideas that'll make your loved ones smile.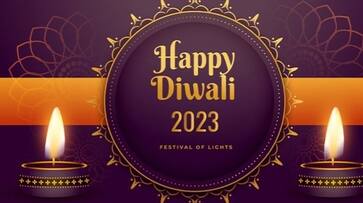 Diwali, also known as Deepavali, is celebrated on the 15th day of the Hindu month of Kartika. The date differs each year in the Gregorian calendar, usually in October or November. Diwali, the festival of lights, is celebrated with zeal, enthusiasm and joy. The festival of light is here, and everyone is busy searching for the perfect gift for their dear ones. For the last-moment confusion and to cut the hassle short, we are here with six popular gifting ideas to strengthen your never-ending friendships and cherish the bonds we have created over the years. One popular narrative is the return of Lord Rama to Ayodhya after defeating the demon king Ravana. People lit oil lamps to welcome him, symbolizing the victory of light over darkness.
ALSO READ: Diwali 2023 decor: Classic lamps to glass jar lanterns, illuminate your home, public spaces
Here are six popular gifting ideas for Diwali 2023:
1. Mixed sweets box:
You can gift a box of traditional and assorted Indian sweets like ladoos, gulab jamun, and barfi.
2. Gold / Silver jewellery:
Traditional favourites are gifting gold or silver jewellery that signifies wealth and good luck. It is known to be extremely lucky and auspicious to buy either gold or silver on Diwali because purchasing them will bring prosperity and wealth to households.
3. Coins:
Gifting gold or silver coins with the imprint of Goddess Laxmi is considered auspicious for prosperity and a popular gift item you can give your loved ones on Diwali.
4. Utensils:
Presenting metal utensils, such as brass, silver or copper cookware, filled with either dry fruits or fresh flowers, adds a touch of elegance to your Diwali gifts. This practical yet thoughtful gesture is sure to be appreciated by your loved ones. Stainless steel or silver utensils are common gifts, symbolizing prosperity and good fortune in the kitchen.
5. Home Decor:
Decorative items like candle holders, wall hangings, or idols of deities, especially Goddess Lakshmi, are thoughtful and popular git items you can give your loved ones this Diwali.
6. Clothing:
Gifting new clothes on Diwali symbolizes renewal and prosperity. It is a gesture of starting anew.
ALSO READ: Diwali 2023: Perfect online real money games to play this festival season
Last Updated Nov 12, 2023, 7:30 AM IST