Beauty brand gets creative! Giant-size lipstick paints the town red, literally - WATCH
Beauty brands like L'Oreal Paris and Maybelline are creatively taking their marketing campaigns to the streets, showcasing products in innovative ways to capture attention in a saturated market.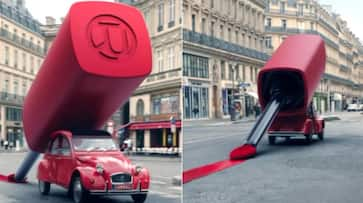 The beauty industry witnesses a continuous influx of new product launches, making it challenging for brands to stand out in a crowded market. However, L'Oreal Paris is making an innovative move by taking its latest campaign to the streets. They are promoting their new Infaillible Matte Resistance liquid lipstick, emphasizing its long-lasting and pigmented color.
The campaign features a red automobile adorned with an oversized lipstick applicator attached to the back, creating the impression of the lipstick streaking the streets in a bold shade of red. While it's unclear whether this installation is AI-generated or physically constructed, it's a creative way to showcase their product.
Earlier this summer, Maybelline adopted a similar approach to promote their Sky High Mascara, displaying larger-than-life lashes on the front of a train. These lashes received a mascara coat whenever the train stopped, thanks to strategically placed applicators at various stations.
In the past, fashion and beauty brands have ventured into unique marketing strategies, such as Jacquemus using life-size versions of their Le Bambino bags fashioned as buses to transport passengers around Paris. This campaign, reportedly created by AI, garnered positive reactions on social media, with comments praising its creativity.
These innovative approaches show how fashion and beauty brands are thinking outside the box and taking their campaigns to the streets to capture consumers' attention in a big way.
Last Updated Sep 5, 2023, 4:53 PM IST