Bizarre! Police want schools to install CCTVs in toilets!
Following a rape of class four girl by 13-year-old boy allegedly in the school toilet, the police asked the schools to install CCTVs
But the schools have taken strong objection to it claiming protection of one child cannot be at the cost of another
The police have admitted that it was a typographical error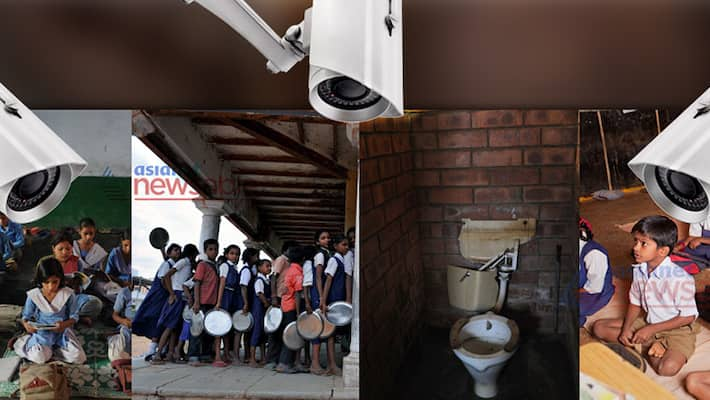 The City police's efforts to tackle POCSO cases are welcome. But on Tuesday, they went a bit too far when the police asked the schools to install CCTVs in school toilets! Yes, as bizarre as it may sound but it is true.
Following a rape incident that reportedly took place on August 30 where a class four girl was allegedly raped by a 13-year-old boy of the same school, the jurisdictional police have asked 12 schools - in its limits - to mandatorily install the CCTVs. The notice said that the CCTVs be installed in front of the school, in every room, corridor and even in toilets or washrooms, reports Bangalore Mirror.
It was alleged that the girl was taken to the washroom on the first floor of the school where the 13-year-old boy raped her. What is more shocking is that another minor boy had allegedly locked the door from outside and stood guard. Reports said that the boys allegedly threatened the victim from talking about it to anyone. However, the incident came to light when parents saw her crying after she came home and enquired about it. The case has been referred to the Juvenile Justice Board.
Alarmed by the incident, the police issued the notice to install CCTVs in schools and also in washrooms.
But the school principals are livid at the police notice. "They have asked us to put cameras in toilets. How can we do that? If I have to implement something at school, I have to send out a circular to the parents first. Then, only after hearing them out can we go ahead. If I send the circular, I will have to go to jail or parents will hit me," reports Bangalore Mirror quoting a school principal.
After the schools raised a storm over the notice, the police realised that it was the typographical error in the notice that led to the chaos. The police reportedly clarified that "What is mentioned as washrooms or toilets is nothing but the verandahs leading to the toilet. We did not say install cameras in the toilet. It is just a typing error. We will change that and issue a new notice to schools."
Last Updated Mar 31, 2018, 6:52 PM IST