Anurag Tiwari, a commissioner in the Food, Civil Supplies and Consumer Affairs Department in Karnataka, was found dead on May 17.
He reportedly was about to expose a 'big scam' in Karnataka involving a state minister.
The Uttar Pradesh police now have registered a murder case in the death of the Karnataka-cadre IAS officer
The Uttar Pradesh police registered a murder case in the death of a Karnataka-cadre IAS officer, hours after his family members met Chief Minister Yogi Adityanath and demanded a CBI probe.
"An FIR has been registered in Hazratganj police station against unidentified persons in IAS officer Anurag Tiwari's case under IPC section 302 (murder). The complaint was lodged by his brother Mayank," Circle Officer, Hazratganj, Avanish Kumar Mishra told PTI.
With this, for the first time, the word murder is being used officially in the case. The postmortem report so far suggested that he might have died of asphyxiation. But with probe intensifying disturbing details are emerging, giving out a way for suspicion.
Speaking to the media, victim Anurag Tewari's brother Mayank had earlier too said that they would like to meet the chief minister of Uttar Pradesh before filing a FIR. Thus the family met Yogi Adityanath earlier this day and has now filed a FIR.
The Huffington Post reported that Tewari's sister-in-Law Subhadra had said that CM Yogi had asked the family to wait till the government receives the report from the SIT which is conducting a probe in this regard.
Anurag Tewari was staying at the Meera Bai VIP Guest House at Hazratganj for two days with one of his batchmates, PN Singh, who had booked the room in his name. On May 17 at 6 am, Singh went out to Gomtinagar stadium to play badminton. Tewari also left the room no 19 of the guesthouse for a morning walk. But his body was found lying just 300 metres away on the road, moments later.
Tewari pursued his engineering and then wrote the competitive exams and became an IAS officer in 2007. Last, he was posted as Food and Civil Supplies Commissioner in Karnataka.
Tiwari, 36, was found dead on May 17, his birthday, under mysterious circumstances near a guest house, where he was staying, in the high-security Hazratganj area. His family had alleged foul play. He was posted as commissioner in the department of food, civil supplies and consumer affairs in Bengaluru.
"My son was very honest. Corrupt officers did not like him. They must have somehow got him murdered," Tiwari's father B N Tiwari had alleged in Bahraich, his native place.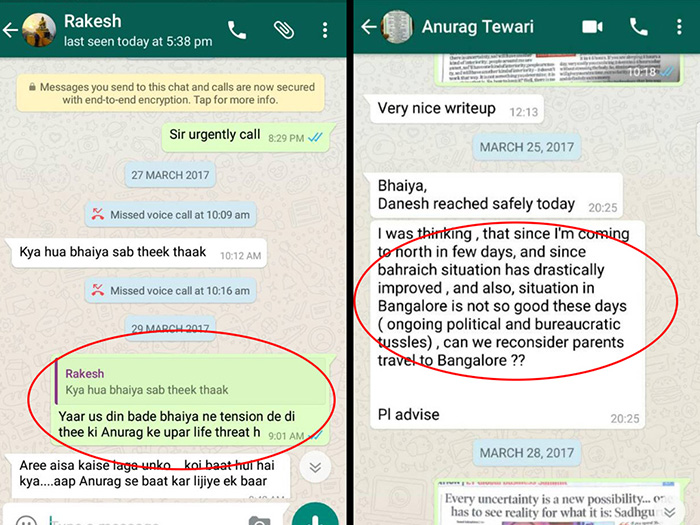 A series of WhatsApp message exchanged between the family and friends of the dead IAS officer has raised suspicion that the Karnataka cadre officer was being threatened by somebody. He reportedly was working on exposing a "big scam" and was about to recommend it for a probe by the CBI as a Karnataka minister was also involved in it. 
Mayank told The Quint that Anurag has found out that several senior officials in his department were giving government contracts illegally to their family members.
(With PTI inputs)