World's tallest Jesus statue has nothing to do with Karnataka Congress president post: MP Suresh
The DK Brothers of the Congress in Karnataka are providing land to Christians to build the world's tallest Jesus Christ statue in their constituency Kanakapura on the outskirts of Bengaluru. Critics say that DK Shivakumar is going all out to impress communities and party president Sonia Gandhi to grab the top post in the state. MP and brother of DK Shivakumar, DK Suresh speaks exclusively to Asianet Newsable.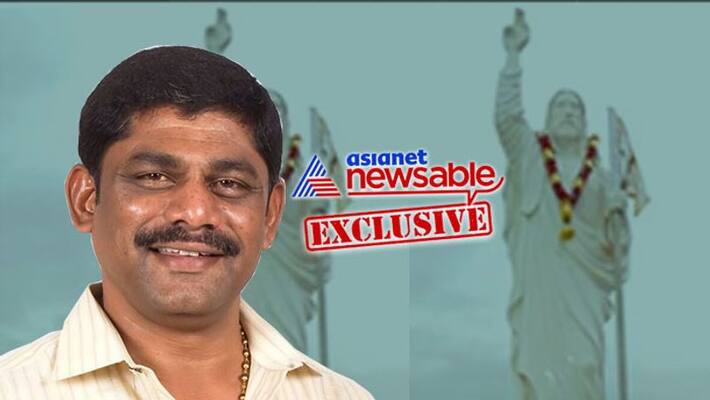 At the time of crisis in Karnataka Congress, the DK Brothers have come to the rescue, with their money power. They not only secured their fort, Kanakapura and Bengaluru Rural Lok Sabha seat, but also ensured that the Congress stays in Karnataka. Now, all eyes are on the Congress president's post. It is believed that the DK brothers are going all out to impress communities across all sections to become the next CM face of the party in the state. And giving land to Christians to build world's tallest Jesus Christ statue is one such move, say sources. MP and brother of DK Shivakumar, DK Suresh speaks exclusively to Asianet Newsable. Here are the excerpts.
Are DK Brothers supporting Christians to build a world's tallest Jesus statue, by donating land?
This is government's land. It was sanctioned in 2016 to the trust. Christian community members used to go to Kapali hills to pray. They wanted to build a statue and it is in our constituency. So, whatever were the minimum charges, we paid on behalf of them for the purchase. The donors collected money and contributed for the construction of the statue.
The BJP calls this move an insult to Lord Shiva as the hills are named as Kapali. Late seer of Siddaganga Mutt Shivakumara Swamiji was born in this district.
The leaders who accuse us of appeasement politics don't know where Kapali hills is located. The leaders from other parties are welcome to build a 100 feet statue of Lord Ram. We will give them land in our constituency. We will support this as well.
Some leaders questioned the Union government during the construction of Sardar Vallabhai Patel statue, where are they now?
This is not an issue for discussion. Whoever believes in some faith, they can build that. And in my constituency, we are constructing a 100 feet statue of Walking God/late Siddaganga seer Shivakumar Swamiji. We are supporting that as well. 110 acres of land has been allotted for that.
In case the present government raises objection to this move?
The people are building the statue with their own funds and we are only helping. As a secular party, we support, Hindus, Muslims, Christians, Jains, Sikhs and others. When DK Shivakumar was the cooperative minister, we built a Jain temple.
The BJP has got a clear message that they cannot fool us anymore. The people have started to reject them. They want to divert the issue from CAA, NRC and the nationwide agitation against them. Hence, they are making an issue out of this Jesus statue being built by Christians.
What is your take on firebrand BJP leader Ananth Kumar Hegde who says DK Brothers want to impress St Petersberg and Sonia Gandhi with this Jesus statue for power and votes?
The BJP realised that Ananth Kumar Hegde is a waste product and hence dumped him. It is already established that there is no connection between his brain and his tongue.
We are not going to bother about such leaders who sow the seeds of poison in the minds of people. Building a statue has got nothing to do with Karnataka Congress president post and or any other position.
Your adversaries say that the move to support Christians was to ensure Shivakumar becomes the Congress president in Karnataka, while also posing as the CM face of the party in the state.
This Jesus Christ project is old and it began three years ago. Such reports will prove to be a canard. Two years ago, the foundation stone was laid. Now, it's only the sculpture work that is being taken up. These fools are linking it to politics and the present situation.
We are supporting all the communities. If BJP wants to build Ram statue in my constituency, I will provide 10 acres of land for them in a good location. If they want to build Hanuman statue, let them approach us for that also, we will give them land as this will only help us in the constituency and it will boost tourism in Kanakpura and surroundings.
Last Updated Dec 28, 2019, 12:36 PM IST