World's tallest Chamundeshwari idol with 18 hands unveiled by Muslims in Karnataka
The 60-feet Goddess Chamundeshwari statue with 18 hands is a must-see spot in Karnataka. The statue made out of five metal alloys is said to be the world's tallest statue dedicated to Chamundeshwari. The interesting thing to note is that the statue is made by Muslim experts in metal casting.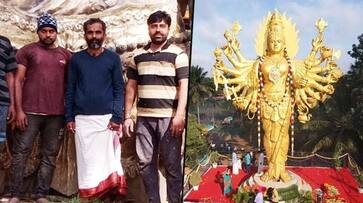 Not just Mysuru's Chamundi temple, now, even Ramanagar's Chamundi temple will be a favorite tourist spot as the world Tallest statue was unveiled.
Temple's head chief priest BG Mallesh talking to Asianet Newsable explained that the important element in the world's largest Chamundi statue is made by Muslims from Bengaluru.
"The team of 20 members headed by Muzzamil Khan was involved in making this gigantic Panchaloha statue and it took three years to complete the project.
 Villagers from Gowdanagere and surrounding areas of Channapatna and Ramanagara District contributed with old metals. From copper tumbler to bronze pot, old boilers, broken metal lamps, and unused items including aluminum were given. This apart gold, silver was also added and all have to be melted to make this project. In all,36 tonnes of metal alloys were used." the Chief Priest told Newsable.
The community working on the project followed all rules and did not hurt religious sentiments. "They knew they were working for the temple project and did not go out for any food not consumed non-veg food. During their religious festivals, they stay at their places for a few days and return after a bath. They never consumed alcohol nor smoked and entered the temple site, the chief priest  stressed.
The temple administration is yet to calculate the breakup of metal alloys and its total cost. The priest says, before beginning the project they searched on Google and found that nowhere in the country and in the world such a big statue for the Chamundeshwari deity was built earlier.
Muslim man who designed the statue reacts:
Muzzamil Khan who owns a metal alloy shop in Bengaluru outskirts expressed happiness for being part of the temple project.
He said, in the beginning, clay was used to make the shape and later fiber was used for perfection. And stage by stage, the casting was done. Melted metal alloys were poured as per the shape by removing fiber. At each stage, the welding was done. Once the statue was built, polishing was done.
Where is this temple located?
The two-decade-old temple is located at Malluru Hobli, Gowdagere village of Channapatna in Ramanagara District. It also borders Tumkur and Mandya. Devotees from Bengaluru, Mysuru also visit the temple during auspicious and festival seasons.
 
Last Updated Aug 9, 2021, 5:51 PM IST