Woman's opposition to illicit affair turns fatal in Karnataka's Mandya
Father in-law commits horrendous crime in Mandya, Karnataka; stabs daughter-in-law, who opposed illicit relationship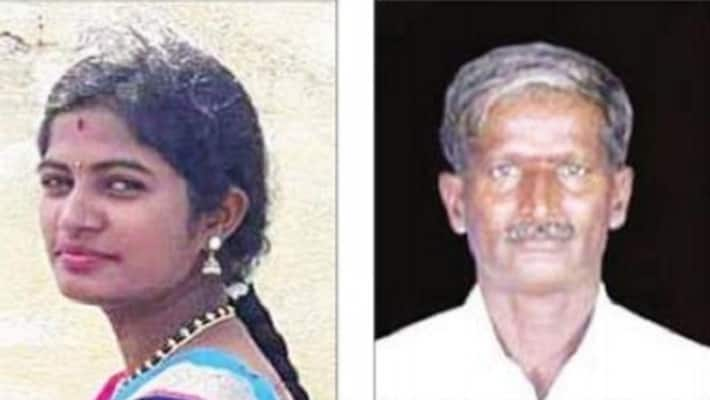 Mandya: A horrendous incident was reported from Mandya, Karnataka, as a man stabbed his daughter-in-law with a knife and killed her. The incident came to light late but it took place on Saturday in Ragimuddanahalli village in Mandya district.
A man named Nagaraju was always forcing 26-year-old Veena to have an illegal relationship with him and Veena vehemently opposed it.
Veena married accused Nagaraj's son Anil 6 years ago and has two children namely Sinchana and Darshana. Unable to bear Nagaraj's torture, Veena had reported everything to her husband Anil.
Later, the village head even reprimanded accused Nagaraj and he promised to behave well with his family. Nagaraj also promised to look after Veena like a daughter and wanted to move in with them. But Veena and Anil opposed Nagaraj's idea of living together and they moved out of the house 3 years ago and were making a living with a small petty shop.
Even then Nagaraj didn't stop harassing Veena and always forced her to go with him. Veena had lodged a complaint with Mandya Rural Police Station and Nagaraju was out on bail recently.  
Nagaraj was allegedly threatening Veena claiming to kill her and on Saturday (Nov 9) he followed her while walking back alone that evening. Nagaraj later pounced on Veena with a knife in his hand and started stabbing her. Veena cried for help and bystanders rushed to snatch away the knife from Nagaraj's hand. But their efforts went in vain as Nagaraj started hovering the knife towards them. Nagaraj stabbed Veena in the stomach and throat. As soon as Anil heard the news, he rushed to save his wife, but Nagaraj had fled the scene and Veena was lying in a pool of blood.    
Veena breathed her last on the way to the hospital. Anil filed a complaint with the Mandya Rural Police Station and has mentioned his brother Manju provoking his father to commit the crime. Ragimudanahalli village SP Shobha Rani, DySP Gangadhar and rural police inspected the spot where Veena was murdered. 
Last Updated Nov 27, 2019, 3:06 PM IST