Without waiting for test results authorites cremate bodies of corona suspects; locals protest at Bankura


Mortal remains of Covid-19 suspects are being cremated by the authorities in the shadows of the night. And this is done without waiting for the test results of their samples, locals of Bankura city of West Bengal alleged. They demonstated against this practice on Tuesday night for nearly two and a half hours, before being dispersed by the police force.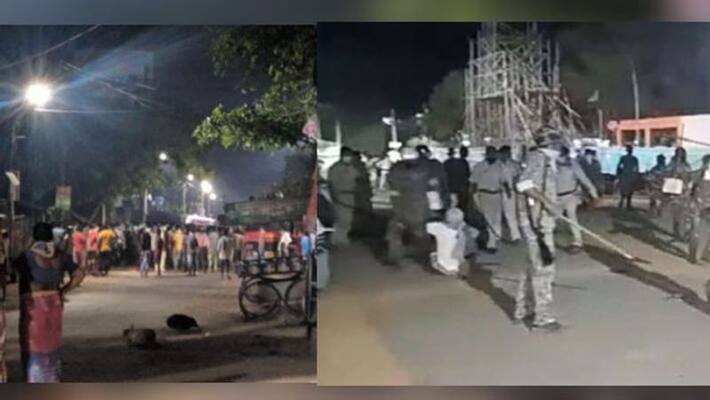 Bankura
: COVID-19 suspects are being admitted to the fever ward. If any of them dies, they no longer wait for the deceased's test results. The bodies too are not being handed over to the family, but cremated by the authorities in the shadows of the night. "This can't go on anymore," people of Bankura city of West Bengal clearly said in a demonstration on Tuesday night. After nearly two and a half hours, the police lathicharged and dispersed the protesters.
Reportedly, a 65-year-old man died on Monday night at the fever ward of Bankura Sammilani Medical College and Hospital. This resident of the Bankadaha area of ​​Bishnupur police station in Bankura had been suffering from fever and breathing trouble for the past few days. He was admitted to the hospital on Monday. He died two hours after admission. However, the hospital authorities did not hand over the dead body to the deceased's family.
On Tuesday night, with the help of the local police force, Bankura municipality brought the mortal remains to the Lakshatara Crematorium of the Bankura city. The body was cremated. A fire engine was called in to sanitise the crematorium and the vehicle that carried the body.
In the meantime, news of this cremation reached the ears of those in the locality and the adjoining Lalbazar area. Even after midnight, a large number of locals gathered at the crematorium and continued to protest, raising their voice against the administration. 
They claimed, this is not the first time a dead body from the fever ward of the Sammilani Hospital is being creamated in this manner. Bankura municipality and the police have been doing this for the last two days, they alleged. The cremation is being done without knowing the results of their swab sample test. Besides, the Lakshatara Crematorium is located in a very crowded part of the Bankura city. Therefore, coronavirus can easily spread in the area if this is continued.
On Tuesday night, protesters also demonstated outside the houses of two local councillors. They demanded action on the issue. One of the councillors also joined the protesters, according to the police.
Meanwhile, a huge police force led by the additional superintendent of police, Bankura, arrived at the scene. The cops tried to bring the situation under control through dialogue. And when it failed, the police resorted to lathicharge and dispersed the protesters. The councillor, who took part in the protest, condemned police's action.
Last Updated Apr 15, 2020, 7:36 PM IST