Why victory in Karnataka bypolls gives battered BJP some relief
Karnataka bypolls victory boosted the prospects of BJP after its setback in Maharashtra with the saffron party winning 12 out of 15 Assembly seats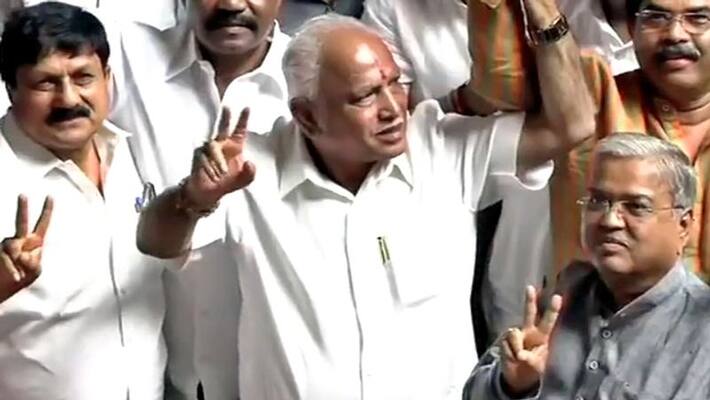 Bengaluru: The saffron party received a huge boost with its win in Karnataka bypolls, where the ruling BJP government was hanging by a thread tied to the by-elections held in 15 Assembly constituencies. 
The Congress-JD(S) coalition had formed the government though people's mandate that was with the BJP and ruled for three months. The future of Yediyurappa-led government formed soon after was hanging by a thread, and it depended on the outcome of the bypolls, which was won comfortably with 12 seats in its kitty. The bypolls were necessitated by the disqualification of 17 MLAs of the Congress and the JDS earlier this year which paved the way for BJP to come to power. 
With the addition of 15 new members, the strength of Karnataka Assembly has gone up to 223. The normal strength of the house is 225. The truncated Karnataka Assembly had a strength of 208 making the BJP enjoy majority with 105 MLAs.
The ruling party requires support of 123 MLAs in the full-strength Karnataka Assembly. Two seats (RR Nagar and Muski) still remain vacant. This means, saffron party requires the support of 112 MLAs. However, the BJP's number has now increased to 117 after the sweep in Karnataka bypolls.
This result is bound to give the BJP some confidence in Maharashtra, where it just lost power to ally-turned-rival Shiv Sena, Goa - where the Shiv Sena is said to be trying to unite anti-BJP leaders, and Jharkhand, where three more phases of polling is left and the party will shed its long-standing allies in the ongoing election. 
The BJP was looking tattered after it failed to read unexpected stiff resistance from its oldest ally Shiv Sena, which the saffron party feels rode on its back to emerge second-largest party in Maharashtra election. Shiv Sena formed the government in alliance with the NCP and the Congress. The BJP as the single-largest party was outwitted not only by the Shiv Sena but also by NCP leader Ajit Pawar last month.
Last Updated Dec 10, 2019, 12:42 PM IST