Why second Vande Bharat Express train's arrival in Kerala will be delayed
The newly announced second Vande Bharat Express for Kerala is getting delayed as the Railways is yet to confirm the routes to operate services. The current Vande Bharat services operate between Kasaragod and Thiruvananthapuram.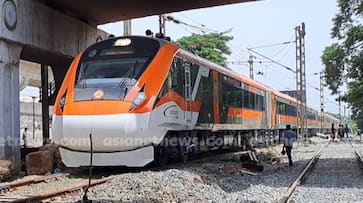 Chennai: The Chennai Integral Coach Factory (ICF) released the second Vande Bharat train for Kerala. The train left the factory on Friday at 8 PM after passing all main inspections. However, the train has not yet begun its voyage to Mangalore since a decision on the route has not yet been made. There are also speculations that the train will be taken to Goa. Currently, the train is in the Chennai Basin Bridge yard. The decision was made to leave the train there until the service route was decided.
The two additional Vande Bharat rakes that were authorised alongside Southern Railways have arrived at their respective zones from Chennai ICF. The Mangalore carriage and wagon department's engineers are currently in Chennai. Power testing along the pit line in Mangalore was completed successfully.
The state encountered difficulties as a result of the complaints voiced by several divisions against operating a Vande Bharat only in Kerala. ICF's 31st raking is considering six different routes. Mangalore-Thiruvananthapuram, Mangalore-Ernakulam, and Mangalore-Kottayam are the three most important of them. The Southern Railway Route Selection Committee is also considering the routes from Mangalore to Coimbatore, Madgaon to Ernakulam, and Mangalore to Goa. Only with the railway board's consent will the ultimate decision be made.
It is also reported that the Prime Minister has yet to give a confirmation date on the flagging off the newly designed Vande Bharat Express. 
Although the Palakkad division has been instructed to prepare for the service on the Mangalore - Ernakulam route, there are also chances to take the train to Goa. Therefore, Kerala will have to wait for a few more days to see if the state will get the first newly designed Vande Bharat Express. 
The upcoming Vande Bharat Express will have a greater seat reclining angle, better seat padding, easier access to mobile charging stations, longer footrests in executive chair cars, deeper washbasins to prevent water splashing, and better lighting in the restrooms. It will also have wheelchair mounting points for specially-abled passengers in the driving trailer coaches, a change from resistive touch to capacitive touch for the reading lamp's touch to make it easier to use, better roller blind fabric and an anti-climbing device for increased safety. 
Last Updated Sep 4, 2023, 11:25 AM IST