West Bengal: Resolving conflict, BJP leader Dilip Ghosh invites Mukul Roy to his house for meeting
It seems like Dilip Ghosh and Mukul Roy will work together for the Assembly elections keeping aside their personal clashes. A meeting was held at Dilip Ghosh's house at Newtown. Kailash Vijayavargiya visited Dilip Ghosh at his house to initiate the meeting.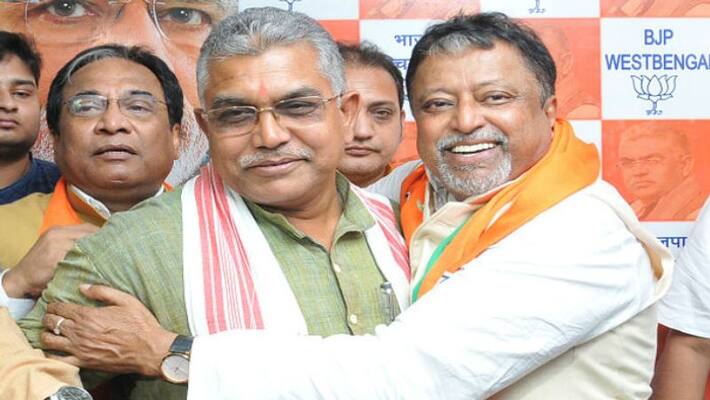 Kolkata: Within 24 hours, work started as per the words of the BJP president Jagat Prakash Nadda. Dilip Ghosh, Mukul Roy, and Kailash Vijayavargiya started work for the Assembly election. The meeting started at Dilip Ghosh's house in Newtown. According to reports, BJP leader Dilip Ghosh was in Howrah before returning home.
Yesterday, Mukul Roy commented on the current situation of the party. He openly mentioned that there is no conflict in the fold. He even assured that he has no problem with Dilip Ghosh. Mukul Roy said that other political parties are deliberately spreading such rumours adding that media houses are making up news for their own interests. The BJP will fight together before the 2021 general elections, otherwise, the people of Bengal will not forgive them, he stated. The same words were echoed by BJP state president Dilip Ghosh.
As per sources, BJP president JP Nadda said yesterday (August 17) that he would work with everyone in preparation for the Assembly election. Both of them conversed for about an hour.
The recent past of state politics shows that the clash between Mukul Roy and Dilip Ghosh in the BJP is nothing new. This took a new dimension after the meeting in Delhi. Although the leaders of Dilip brigade were in Delhi, Mukul left Delhi midway and returned to Kolkata. When asked about this, he said that the appointment for his eye treatment was fixed previously, so he had to return.
The former Trinamool leader said that there was no question of his returning to the TMC.
A huge conflict took place between Dilip Ghosh and Mukul Roy after Dilip insulted him using foul words. A few days ago, a different tune was heard from the state BJP president. Dilip Ghosh commented that no one's help is needed to seize power in the state, and that he himself can establish a rule.
The Medinipur MP was vehemently criticized after his comments. Later, the news of this was conveyed to Delhi by certain members of the party. Post this, JP Nadda gave the message to the state BJP party of including all in the Assembly election preparations.
 
Last Updated Aug 18, 2020, 4:39 PM IST