WB: No salary due to lockdown; joint secretary of state taxi association writes letter to CM Mamata Banerjee
The taxi organization of West Bengal wrote a letter to chief minister Mamata Banerjee regarding the issue of not receiving any payment since lockdown. There was mention of tax exemption and rise in car fares in the letter.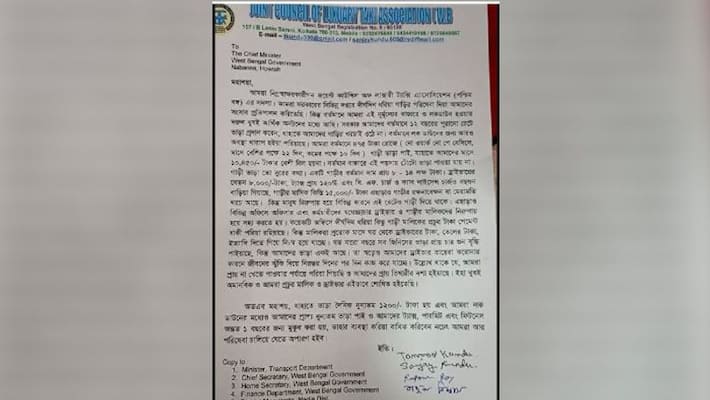 Kolkata: Car drivers of state government offices suffered a lot due to the lockdown. They have no earning for a long time. The financial condition of government office car drivers is gradually deteriorating. Whatever they are earning is not enough to take run their family. If this situation continues, then many car drivers will be forced to commit suicide.
Besides, a letter has been sent to the state Chief Minister Mamata Banerjee informing her about the detailed situation. The car drivers also mentioned in the letter about tax exemption and the rise in car fares.
Also read: Kolkata Police confiscate piles of Chinese manjha after conducting raids in Chandannagar
State government offices were closed due to the lockdown. Although the offices have opened in Unlock 4, the vehicles of the state government offices have not been running. Therefore, the car drivers of government offices have lost their monthly income.
Tanmoy Kundu, joint secretary of the state taxi association, said, "We have not seen any increase in cab fares in the last 12 years. Most of the offices in lockdown were shut and the cabs were not used. We are suffering from severe financial hardship. The officials of the State Government are not giving us our previous earned money. Meanwhile, the cost of everything has risen due to the lockdown. If the car rental does not increase, it will no longer be possible for us to make a living."
"Around 40,000 commercial vehicles run in Bengal. About 1 million people, including car owners, drivers, and their families, depend on this business for their livelihood. We have requested the Chief Minister to look into this matter," he further added.
Also read: PM Modi praises Babul Supriyo's musical tribute to former President Pranab Mukherjee
Besides Tanmoy Kundu requested a minimum daily rent of Rs 1,200, exemption of taxes, permits, Mediclaim for one year, and the amount due during the lockdown.
 
Last Updated Sep 12, 2020, 6:00 PM IST