West Bengal: Battle for supremacy begins as Shuvendu Adhikari removes Mamata Banerjee's picture from poster
Shuvendu Adhikari has been putting a picture of himself across the state in posters. Mamata Banerjee's picture has been removed from the posters. People guess that Shuvendu Adhikari can be huge competition for Mamata Banerjee in Jangalmahal before the 2021 Assembly election.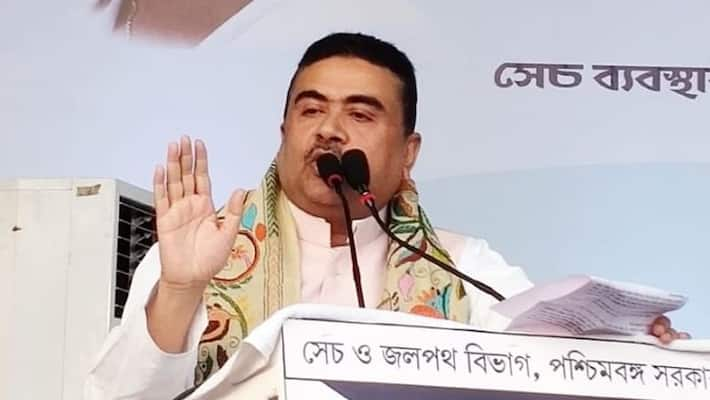 Kolkata: Shuvendu Adhikari can give a huge competition to Mamata Banerjee in Jangalmahal before the 2021 Assembly election, people believe. People of East Midnapore say that Shuvendu Adhikari is holding meetings at several places without putting Mamata Banerjee's picture on posters. Pictures of him is seen on the posters though. He did not even attend the state government's function on Hull Day but attended other functions of tribals. This incident has naturally increased discomfort in the Trinamool brigade.
Shuvendu Adhikari did not attend the state government's function on Hull Day even though his picture was put up in the poster. However, a reportedly embarrassed Partha Chatterjee was at the function. The Trinamool party secretary-general had to face embarrassment when people asked the reason for Shuvendu Adhikari not attending the function. Partha Chatterjee said, "It would have been better if he had come."
Also read: West Bengal: Maoists put up posters again in Jangalmahal, threaten government with stopping road work
However, this is not the first time that the Tamluk MP has distanced himself from the party. On many occasions, he has not been present at the party meetings and events. Many people have started to believe that Shuvendu Adhikari will eventually leave the Trinamool and join hands with the BJP.
However, Shuvendur's decision to join the BJP is uncertain. None of his close ones have indicated he is going to join the BJP. Presently, Shuvendu is all set to strengthen his position in Medinipur. Shuvendu Adhikari's poster has been put up by his supporters in all the places where Abhishek Banerjee's poster is seen. Shuvendu's name was written in the poster as a social worker for the state. This has caused a stir in the area.
In Kalighat, a huge controversy about Shuvendu Adhikari is rife. The party now has a 'foreign body' state transport minister. Its onset revolves around the recent Trinamool party reshuffle, where Shuvendu was removed from an important post and placed on a seven-member core committee.
Also read: Death toll rises to 1,350 in Kolkata; 17 deaths reported in single day
The turning point was the reshuffling of the Trinamool's East Midnapore district organization where Parthasarathi Maiti replaced Shuvendu's close aide as the district youth president. This incident has led to a huge tiff. Now, in several places of the district, posters of social worker Shuvendu Adhikari are seen.
Upon becoming aware of the incident, Trinamool leader Mamata Banerjee tried to solve the issue. She inquired about the health condition of Sishir Adhikari's wife. It is known that Mamata Banerjee wants to retain Shuvendu in the TMC. But whether her wish to keep Shuvendu in the party will be fulfilled or not will be seen in the 2021 Assembly Elections.
Last Updated Sep 7, 2020, 3:13 PM IST