Wayanad completes Aadhaar enrolment of kids below 5 years, first district in India to do so
Kerala's Wayanad became the first district to enroll children below the age of 5 years for the Aadhaar card. The announcement was made by the district collector Renu Raj at Poothadi.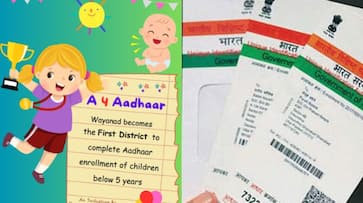 Kalpatta: Wayanad became the first district in Kerala to complete Aadhaar enrollment of children under 5 years of age. As many as 44,487 children below five years of age enrolled for Aadhaar in the district through mega camps and direct access to Akshaya Centres. 
Aadhaar enrollment of children has been done in Sultan Bathery Municipality 2221, Mananthavady Municipality 2352, Kalpatta Municipality 1629, Ambalavayal 1771, Mooppainadu 1776, Meppadi 1969, Tirunelli 1304, Muttil 1857, Kanyampatta 2210, Noolpuzha 1572, Poothadi 1852, Thariyodu 57 1, Vaithiri 993, Mullankolli 1154, Tavinjal 2107, Vengapally 609, Nenmeni 2660, Velamunda 2688, Pozhuthana 732, Panamaram 2991, Thondarnadu 1712, Edavaka 2086, Kottathara 968, Meenangadi 1734, Padinjarathara 1599 and Pulpalli 1380.
In order to do this, the district administration teamed up with the Indian Postal Services, Dhanalakshmi Bank, Kerala State IT Mission, civic bodies, and the departments of tribal development and women and child development to launch the "A for Aadhaar" campaign. The A for Aadhaar campaign was completed with more than 20 analytical meetings of departmental officials under the chairmanship of the district collector, analytical meetings of all ICDS supervisors of the district and a meeting of ST promoters.
On Children's Day, November 14, 2023 (Tuesday), District Collector Renu Raj made an announcement regarding the district's commendable accomplishment at Poothadi.
 
Last Updated Nov 16, 2023, 11:23 AM IST