WATCH: Belgian man shakes a leg to popular Indian songs; dances his way into hearts
Belgian content creator Ed People's viral video showcases him learning and dancing to Indians' favorite dance moves, winning hearts with his enthusiasm and appreciation for Indian culture.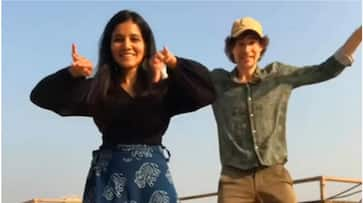 Belgian content creator Ed People is gaining popularity for his dance videos featuring people from around the world. In his latest video, he reached out to Indians to teach him their favorite dance moves, and the heartwarming clip has gone viral on the internet.
The video captures Ed People approaching strangers and asking them to share their favorite dance moves. People from various Indian cities enthusiastically taught him different dance steps and poses, and Ed People impressively mastered each one. As the video unfolds, he is seen dancing with great enthusiasm and thoroughly enjoying the experience, capturing the hearts of viewers worldwide.
Accompanying the video, People wrote, "Indian Dances." Posted on Instagram six days ago, the video has garnered over 2.8 million views and numerous comments.
Viewers have expressed their admiration for the diversity and expressiveness of Indian dances. One Instagram user wrote, "I love how diverse and expressive they are." Another commented, "I love the enthusiasm he puts into every dance he learns... May your journey continue to be a path derived from the Most High."
Many viewers find these videos uplifting and smile-inducing, with one user noting, "These videos always make me smile."
Some viewers appreciate the joyful and non-sexualized nature of Indian dances, as one user stated, "Indian dances are the best. They're cheerful and not sexualized, I like that."
In a playful reference to a specific dance move, another user humorously noted, "Indian kids made him do patli kamariya."
Previously, Ed People's video of him learning the favorite dance moves of guests at an Indian wedding also went viral.
Last Updated Sep 4, 2023, 9:14 PM IST