LDF liqour policy clear, no new bars: VS Achutanandan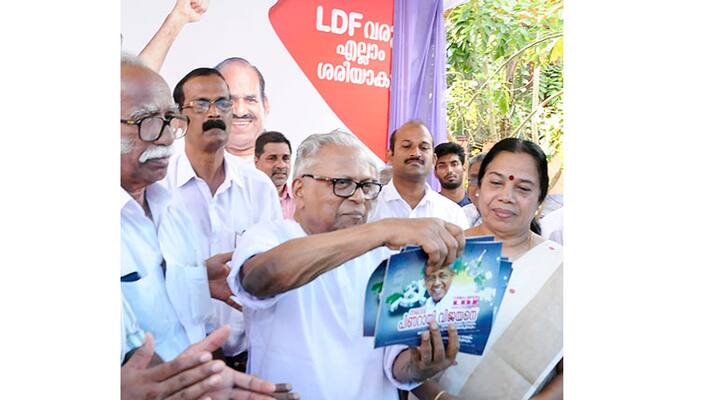 "When the LDF comes to power, no new bars will be opened and present system of liquor supply will be re-structured," he said in a Facebook post amid the liquor policy emerging as a key plank in the coming polls.
    
"There is no confusion in the (LDF's) liquor policy. It is very clear," the former chief minister said.
    
LDF's policy was to reduce consumption of liquor in phases and to implement abstinence, he said.
    
"We are seeing the statement of CPI(M) General Secretary Sitaram Yechury that closed bars will not be opened as part of this policy. That is what we see. Where is the confusion in this?" he asked.
    
Yechury had stated that if LDF comes to power it will not reverse any of the decisions of the UDF government on closed liquor bars.
    
Achutanandan's clarification seeks to put a lid to the confusion following Politburo member Pinarayi Vijayan's statement that LDF would take up Yechury's declaration when it comes to power and formulates its liquor policy.
    
The re-structuring would be done with the aim of reducing liquor consumption, Achutanandan said adding bars should not be closed at one go.

"The main agenda of the UDF and BJP is to create confusion with political motives on matters that are clear. UDF leaders are trying to run with the hare and hunt with hounds at the same time," he said.
    
He also alleged violation of rules in allotment of land by the UDF government for setting up a distillery in Palakkad.
       
"If the government is sincere in its declared policy of enforcing prohibition in 10 years time, it should at least take away the land given...," said 93-year-old Achutanandan, who is the lead campaigner for the party besides contesting the polls from Malampuzha.
    
Seeking to pick holes in the UDF liquor policy, Achutanandan asked whether by opening more distilleries, the Congress-led front was planning to implement prohibition.
    
The veteran leader said bars had not been closed as claimed by Chief Minister Oommen Chandy and KPCC President V M Sudheeran.
    
"Liquor with less 'veeriyam' (strength) are being sold in the state. Studies have shown that illicit liqour was also being sold. Even houses and private vehicles had become 'mini bars'," he alleged.
    
He charged UDF leaders with propagating lies under the impression that people were "fools".
Last Updated Mar 31, 2018, 6:42 PM IST