Vizag Police thrash doctor who complained of shortage of PPE kits
The doctor, who the police say was "in a drunken state and behaved rudely", had been suspended last month by the Andhra Pradesh government after he complained about lack of PPEs.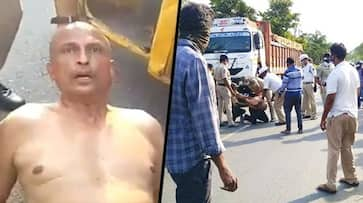 Visakhapatnam: A doctor, who had complained about shortage of PPE kits last month, was beaten and dragged on road by Vizag Police in Andhra Pradesh on Thursday, according to a Hindustan Times report.
In a video doing the rounds on social media, bare-chested Dr K Sudhakar can be seen with his hands tied behind his back, being dragged and beaten by the police. He was later taken to the police station in an auto-rickshaw as people, gathered on the road, looked on.
Sudhakar, a doctor at the Narsipatnam government hospital, was suspended last month after he complained about the shortage of Personal Protective Equipment (PPE) kits and N95 masks. "We are asked to use the same mask for 15 days before asking for a fresh mask. How can we treat patients risking our lives?" he had asked in a video.
Vizag Police commissioner RK Meena has alleged that the doctor was under the influence of alcohol and had misbehaved with the police. "Sudhakar was in a drunken state and he behaved rudely with the police. He snatched the mobile phone from a constable and threw it away. The doctor is apparently suffering from some psychological problems," Meena said, according to Hindustan Times.
Meena also said that Sudhakar has now been sent for medical examination, after which a case will be brought against the doctor.
According to The News Minute, the police commissioner also said that the police constable who can be seen beating Sudhakar has been suspended.
A report in the Mumbai Mirror says that Sudhakar was taken to the King George hospital for a medical examination. "Dr Sudhakar was brought to the KGH casualty ward at 6.30 pm. From the smell, it was found that he was in a drunk condition. Under the influence of alcohol, he did not cooperate with anybody there and kept abusing all. Still, his pulse, BP were checked. Pulse was 98, BP 140/100. Blood samples were sent to the forensic lab to ascertain alcohol content in his blood," the hospital said in a statement.
Last Updated May 18, 2020, 10:14 AM IST