Viral video: 2 Delhi men beat store employees over delay in iPhone 15 delivery (WATCH)
A video of the brawl went viral on social media, where the customers could be seen beating up the employees at a store in Delhi's Kamla Nagar area. Watch viral video here.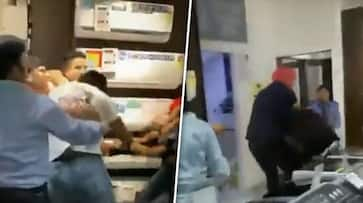 A scuffle broke out between customers and employees of an electronics store in Delhi's Kamla Nagar area on Friday. The customers allegedly beat up the employees over a delay in the sale of iPhone 15. Delhi Police have taken legal action against the customers. On social media, a video of the altercation in which customers were seen assaulting staff quickly gained popularity.
The other employees of the store can be seen intervening in order to stop their colleagues from being beaten ups at a store in Delhi's Kamla Nagar area.
The sale of Apple's recently launched iPhone 15 and its variants is gaining popularity, with customers queueing up in long lines amid tight security at the brand's stores in Delhi and Mumbai. Customers that pre-ordered have their own line outside the stores. The first and second clients to get their pre-booked iPhone 15 Pro and iPhone 15 Pro Max were two brothers from Gurgaon named Rahul and Vivek.
The iPhone 15 series marks several firsts for Apple in India.  Customers may now purchase iPhones from Apple Stores in Delhi and Mumbai for the first time. There are four titanium color options for the Phone 15 Pro and iPhone 15 Pro Max: black titanium, white titanium, blue titanium, and natural titanium.
Last Updated Sep 23, 2023, 5:30 PM IST