Viral photo shows Hardeep Singh Nijjar's supporters identifying him as KTF member
The emergence of a photo at a Canadian Gurdwara identifying Hardeep Singh Nijjar as a member of the Khalistan Tiger Force has led to widespread discussion on social media.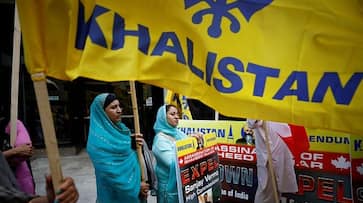 Amid the ongoing diplomatic standoff between India and Canada over his killing, a photo has emerged of Hardeep Singh Nijjar being hailed as a member of the Khalistan Tiger Force, at a Gurdwara in Canada. Canadian journalist Daniel Bordman and others have shared the detail that has gained widespread attention on social media. They said that the photo was an acknowledgement of Nijjar's affiliation with the Khalistan Tiger Force.
Canadian journalist Daniel Bordman tweeted, "Just supporters of Hardeep Singh Nijjar describing him as a member of the Khalistan Tiger Force (KTF), a group described on Wikipedia as a 'militant faction of the Khalistani movement' and listed as a terrorist organization in India."
Canadian Prime Minister Justin Trudeau expressed his country's desire to avoid escalating the issue and emphasized a willingness to collaborate with New Delhi. Canada's Foreign Minister, Melanie Joly, mentioned ongoing private discussions with India.
Hardeep Singh Nijjar, a Sikh separatist leader, met his demise outside the Gurudwara he presided over. Prime Minister Justin Trudeau publicly accused India of involvement in the killing, leading to a diplomatic crisis between the two nations. Consequently, India suspended its visa services in Canada and requested the withdrawal of 41 Canadian diplomats stationed in India.
Regarding the killing of Hardeep Singh Nijjar, India asserted that targeted assassinations were not part of its policy and urged Canada to share any specific intelligence if available. India also cautioned Canada about harbouring numerous Khalistani leaders, highlighting that Nijjar was not a religious preacher but a criminal.
Nijjar fled India in 1997, using a false passport and the alias "Ravi Sharma." He was added to the most-wanted list in 2018, a list handed over to Justin Trudeau by then-Punjab Chief Minister Amarinder Singh. In 2019, he was elected uncontested as the head of the Surrey Gurdwara. Indian intelligence reports alleged that he obtained this position by threatening his cousin and former head, Raghbir Singh Nijjar.
Last Updated Oct 5, 2023, 10:48 AM IST