JDS MP Prajwal Revanna stresses unity, backs the BJP-JDS alliance for Modi's victory
Amidst the BJP-JDS alliance, JD(S) MP Prajwal Revanna emphasises the need for reconciliation of any differences, urging a collective effort to secure Narendra Modi's return as Prime Minister. Addressing reporters on Monday, Revanna expressed optimism following the appointment of B.Y. Vijayendra as the BJP state president, noting a renewed vigour among the youth.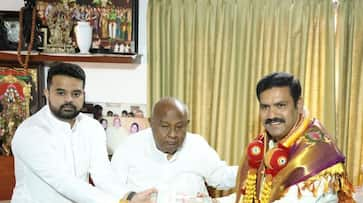 In a notable gesture, Vijayendra sought blessings and guidance from key political figures, including JD(S) chief HD Deve Gowda, the former Prime Minister. The meetings extended to former chief ministers S.M. Krishna and Basavaraja Bommai, fostering an atmosphere of collaboration between the parties.
He stressed the importance of resolving any differences and presenting a united front to secure more seats.
Also Read: Karnataka CM Siddaramaiah urges swift drought relief and appeals to Union Home Minister Amit Shah.
Recognising the critical juncture the nation is at, he urged the youth to actively participate in shaping the future.
Reflecting on his visit to Deve Gowda's residence, Vijayendra acknowledged the veteran leader's insights, citing them as motivating and impactful. He emphasised the importance of the BJP and JDS working in collaboration for the upcoming Lok Sabha election.
Last Updated Nov 16, 2023, 12:26 PM IST