Wanted removal of CM: Uttrakhand's dissenting MLAs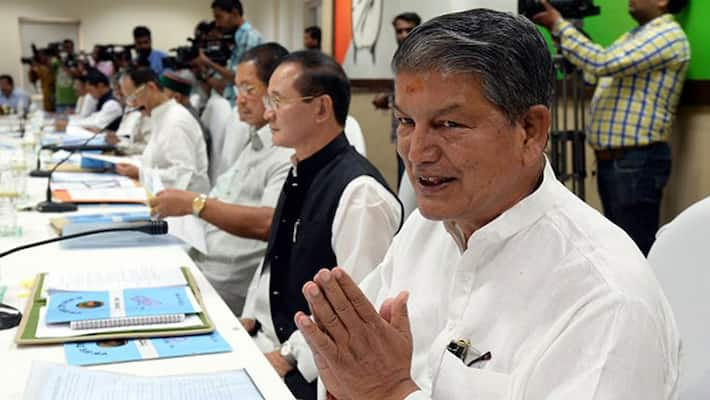 The nine dissident Congress MLAs today told the Uttarakhand High Court that they had not left the party but only wanted removal of the Chief Minister and his government so that a "better" regime can be formed under another leader.
They told Justice U C Dhyani that they were not against the Congress and only wanted to "clean it" up as they felt that the regime under former Chief Minister Harish Rawat "did not show the party in a good light".          
The MLAs, who have challenged their disqualification by Speaker Govind Singh Kunjwal, told the court that they had joined the Bhartiya Janata Party (BJP) and added that they had "differentiated themselves" from the BJP when they signed the memo sent to the Governor seeking division of votes.  
Appearing for the MLAs, senior advocate C A Sundaram argued that dissenting against the government by a member of the ruling party was part of a "healthy democracy" and would not amount to leaving the party or defection.      
He said the CM and the Speaker "are assuming that the government and party are the same" and if this view was accepted then "it would be a death knell for democracy".               
"Then no member of ruling party would be able to criticise the government," he said.   
"Deserting a government or a leader/ Chief Minister (by a member of a ruling party) does not mount to leaving the party or defection. Even under the 10th schedule of defection means deserting the party and not dissent," he argued. 
"I am dissenting against choice of CM. This is an essential part of intra-party democracy. You cannot disqualify someone for speaking against the CM," he contended and added that the "only overt act" they committed was to ask the Governor "to dismiss the government and CM" which "would not amount to giving up membership of the party".      
"As Congressmen we continue to say that this government under this CM (Rawat) must be changed. We are saying change the CM from within the party. They (Congress) will not lose the right to form another government under another CM," he said and questioned whether it means that "we have left the party".    
Sundaram said they had "only objected to the Speaker not following the procedure that the majority (26 BJP and nine Congress MLAs) wanted" and that cannot be said to mean that the nine gave up party membership.     
He alleged that the Speaker was biased towards the Rawat government as he showed "undue haste" in disqualifying the nine MLAs before the floor test scheduled for March 28 and was also defending the government and the CM in court.
Last Updated Mar 31, 2018, 6:43 PM IST