Uttar Pradesh CM Yogi Adityanath inspects preparations for Bhumi Pujan in Ayodhya
The Bhumi Pujan for the Ram Temple will be performed by PM Narendra Modi on 5 August. To check on preparations for the event UP CM Yogi Adityanath arrived in Ayodhya.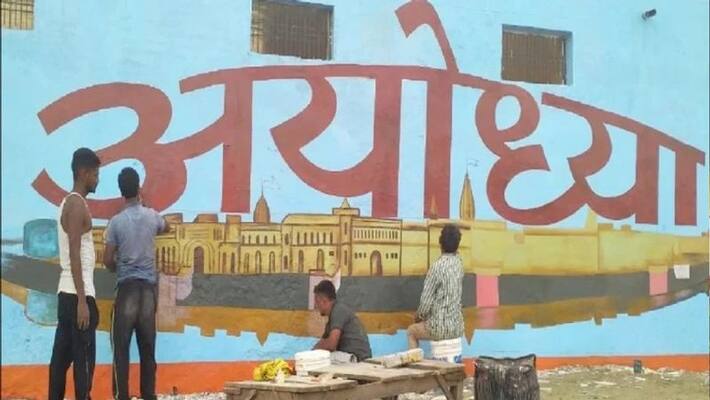 After a struggle of 500 years, the work to build the Ram Temple at the Ram Janmabhoomi in Ayodhya will finally get underway. A three-day ritual began with the worship of Ganesha on Monday. After this Goddess Sita was worshiped by Kuldevi Choti Devkali and Lord Rama's Kuldevi elder Devkali. 21 priests from Varanasi are conducting pujas in Ayodhya. UP CM Yogi Adityanath reached Ayodhya on Monday to check on preparations for the event.
Yogi Adityanath was supposed to reach Ayodhya yesterday, but after the demise of Cabinet minister Kamal Rani, he delayed his visit by a day. PM Narendra Modi will be a part of the Bhumi Pujan on 5 August. 
It is believed that when the mother Sita came to Ayodhya after her wedding in Janakpur, she also brought an idol of Kuldevi. She had placed the idol near Ram Janmabhoomi. 
Ram Archana will begin from 8am on Tuesday in Hanuman Garhi in Ayodhya. The foundation of the Ram Temple will be laid the next day on 5 August. There will also be Nishan Puja conducted once a year. The Prime Minister will first visit Hanuman Garhi in Ayodhya where he will perform special puja in the temple along with CM Yogi Adityanath.
Madhuban Das, the priest of Hanuman Garhi Temple said that no work of Lord Ram can begin without Hanuman. Therefore, PM Modi and CM Yogi will arrive for a special puja at Hanuman Garhi.
The cultural unit of Rashtriya Swayamsevak Sangh are busy in artfully decorating 5100 earthen pots made of Sanskar Bharti soil. They are being decorated with colours, clothes, knots, mango leaves, and lamps. These will be placed on Ayodhya road passing through Saket College.
CM Yogi Adityanath said that it will be a historical moment for the country and the world and that after a struggle of 500 years, PM Narendra Modi will lay the foundation stone for Ram Temple.  Knowing the importance of the day, I have come to check on preparations for the event, the CM added. Protocols related to COVID-19 will be strictly followed. Hence only people who have been invited for the event should come.
For security reasons, Ayodhya has been sealed from today. PM Modi will be in Ayodhya for 3 hours on 5 August. He will plant a sapling. The bhumi pujan will begin at 12:30 pm and will continue for 10 minutes. After that the Prime Minister will take part in the foundation ceremony. The ceremony is expected to run for 45 minutes.
Last Updated Aug 3, 2020, 7:24 PM IST