UPA did everything to help Agusta: Parrikar in Rajya Sabha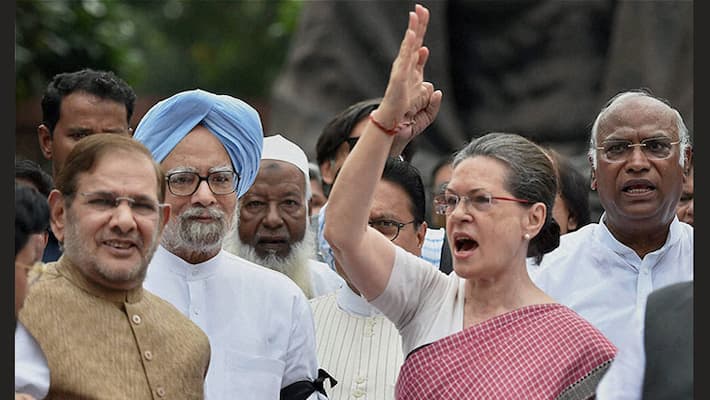 Defence Minister Manohar Parrikar said in the Lok Sabha that former Air chief S P Tyagi and Gautam Khaitan, both accused in the case, are "small people" who "simply washed their hands in a flowing Ganga (of corruption)" and that the government will "find out where the river was going".
     
Speaking on a Calling Attention Motion on the chopper deal, he took a dig at Congress, saying it seemed to know where this "Ganga was going".
     
He said the UPA government had "done everything" to help AgustaWestland bag the contract and that its action against the company following the disclosure of corruption was not pro-active but "forced by circumstances".
     
Tyagi and Khaitan were "small people who simply washed their hands in a flowing Ganga (of corruption)", Parrikar said, asserting that the government will track down the main beneficiaries of the kickbacks in the Rs 3600 crore deal for 12 VVIP choppers. 

"Why are you (Congress) concerned? I have not named anybody. You seem to know where the Ganga was going," the Defence Minister said, taking a swipe at Congress.
     
Parrikar, who was criticised by opposition members for reading from a statement during a debate over the issue in the Rajya Sabha, mostly spoke extempore and narrated the sequence of events related to the contract and its subsequent cancellation.
     
While a criminal case was registered in Italy in November 2011 over an alleged exchange of bribes in the deal, the UPA government continued with the acquisition of choppers and three of them were delivered, he said.
     
Only after Finmeccanica, parent firm of AgustaWestland, officials were arrested in 2013, that the then Defence Minister A K Antony asked the CBI to probe the matter, he said.
     
Before then the government had not even written to the company and instead taken up the matter with the embassy, Parrikar said, likening it to "setting up a committee when you do not want to do anything".
     
"Its (UPA) action was compulsarily forced by the arrest of Finmeccanica official... It did not take any pro-action measure," he said. 
Last Updated Mar 31, 2018, 6:32 PM IST