Tragedy strikes strife-torn Manipur: 3 shot dead in new violence
Responding swiftly to the situation, both the police and units of the Assam Rifles have arrived at the scene, jointly conducting cordon and search operations.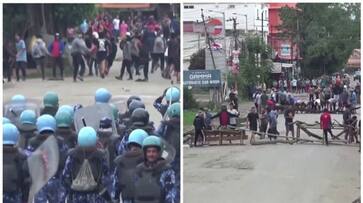 In a distressing turn of events, Manipur's Kangpokpi district experienced another episode of violence, resulting in the tragic deaths of three individuals at the hands of armed assailants. This incident marks yet another eruption of turmoil in the strife-torn state, occurring within a span of less than a week.
The harrowing incident unfolded around 8:30 am, between the villages of Ireng and Karam Vaiphei in the Kanggui area of Kangpokpi district. In response to this shocking act, security forces deployed in the region have initiated extensive combing operations to track down the culprits.
Exploring Nipah Virus: A closer look at its causes, symptoms, and treatment
Tholu Rocky, the additional superintendent of police in Kangpokpi, provided details about the incident, stating, "The incident took place when three Kuki persons who were going in a vehicle were waylaid by armed miscreants and shot dead." He clarified that contrary to some reports, there was no exchange of gunfire during the incident. The authorities have launched a comprehensive investigation to apprehend those responsible, and the bodies of the victims have been sent for postmortem examination.
The attack occurred in an area bordering Imphal West and Kangpokpi districts, and it is believed that the suspects fled the area in a vehicle. Responding swiftly to the situation, both the police and units of the Assam Rifles have arrived at the scene, jointly conducting cordon and search operations.
The Indigenous Tribal Leaders Forum (ITLF), a Kuki umbrella group, identified the deceased individuals as Satneo Tuboi, Ngamminlun Lhouvum (both from K Ponlen), and Ngamminlun Kipgen of Lhangkichoi.
The Committee on Tribal Unity (COTU) released a statement confirming that the three deceased individuals were Kuki-Zo residents and noted that the armed miscreants had been dressed in military attire.
DMK leader accepts party joined INDIA alliance to end Sanatana Dharma; video goes viral (WATCH)
This incident follows a prior warning issued to Manipur police in July by central agencies, urging vigilance against miscreants who had acquired police and security forces uniforms to impersonate security personnel and incite violence.
On September 8, just days before this incident, two men lost their lives, and several others sustained injuries in the Pallel area of the state. These casualties occurred when a mob surrounded a sector office of Assam Rifles in Pallel and opened fire at security personnel. At least one Assam Rifles soldier and two Indian Reserve Battalion personnel were among the wounded in the attack.
Manipur has been plagued by ethnic clashes between the Meitei and tribal communities since May 3, resulting in a devastating toll of over 160 lives lost and approximately 50,000 people displaced. Recent clashes on August 29 and August 31 between tribal Kukis and dominant Meiteis claimed at least eight lives and left more than two dozen individuals, including three India Reserve Battalion personnel, injured.
Kerala: Two deaths in Kozhikode spark Nipah virus concerns
Last Updated Sep 12, 2023, 1:23 PM IST