Three ships sent to evacuate stranded Indians from Maldives, UAE
India is all set to bring back it citizens from foreign countries. The return of Indian nationals would be arranged by both aircraft and naval ships and a standard operating procedure.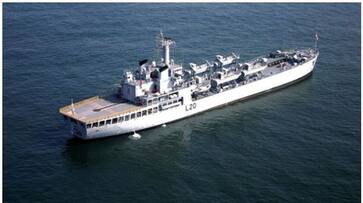 India has sent three naval ships to evacuate its citizens stranded in the Maldives and UAE due to the COVID-19 pandemic, a defence spokesperson said in the early hours on Tuesday. INS Jalashwa deployed off Mumbai coast, along with INS Magar, diverted for Maldives on Monday night, he said.
The INS Shardul diverted to Dubai to evacuate the expatriates, the spokesperson added.
The three ships will return to Kochi, he said.
INS Magar and INS Shardul are Southern Naval Command ships, while INS Jalashwa is from Eastern Naval Command.
Coronavirus in Kerala:
For the second consecutive day, no new COVID-19 cases were reported in Kerala while 34 people are under currently treatment after 61 were discharged, chief minister Pinarayi Vijayan said on Monday.
He said so far 499 people have been infected with the coronavirus, which has claimed three lives, including that of a four-month baby girl from Malappuram.
Last Updated May 5, 2020, 12:57 PM IST