Sonia Gandhi accused of using political might to resolve Tehelka case, Chidambaram demands proof
The Times of India has reported that Sonia Gandhi had written a letter to then Finance Minister P Chidambaram to address the Tehelka issue as quickly
Tarun Tejpal, editor of 'Tehelka' magazine was being probed by Phukan Commission over the sting operation on BJP leaders purportedly accepting bribes from 'arms dealers'
The sting had resulted in the resignation of then defence minister George Fernandes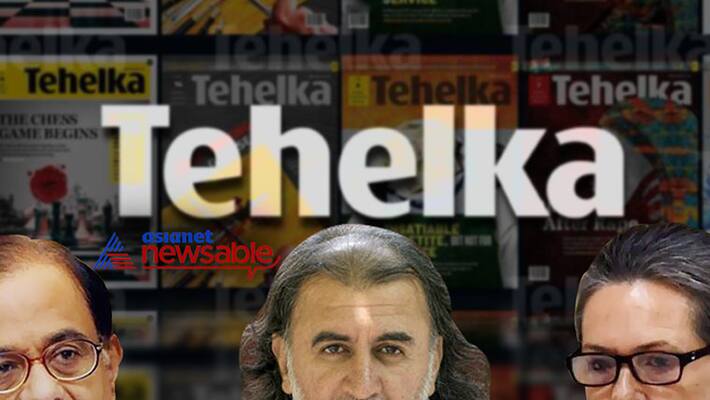 The sting carried out by Tehelka magazine on BJP leaders purportedly accepting bribes from 'arms dealers' is stated by several political analysts as one of the reasons for the Atal Bihari Vajpayee-led BJP government's loss in the 2004 elections. The sting had resulted in the resignation of then defence minister George Fernandes.
The then BJP president, Bangaru Laxman, who was caught on camera taking money, was convicted later.
Congress had emerged as the single largest party after the Lok Sabha polls and formed the government. And although Congress President Sonia Gandhi did not take the oath as the Prime Minister and appointed Dr Manmohan Singh for the post instead, word in political circles was that Sonia controlled the government from behind the curtains.
The Times of India has reported that Sonia Gandhi had written a letter to then Finance Minister P Chidambaram to address the Tehelka issue as quickly. "I would like you to look at these issues on priority," the letter allegedly reads.
Tarun Tejpal, editor of 'Tehelka' magazine was being probed by Phukan Commission over the sting operation. Tejpal had written to PM Manmohan Singh within a month of his swearing-in on June 2004 seeking relief from 'victimisation' by central agencies like the ED and stock market regulator SEBI.
Within five days of receiving the request Sonia allegedly wrote on her official letterhead as chairperson, National Advisory Council, to the then finance minister P Chidambaram that the treatment to Tehelka financiers, First Global, by revenue enforcement agencies 'unjust and unfair', reported PTI.
A number of cases had been registered against promoters of First Global, Devina Mehra and Shankar Sharma, by various investigation agencies after the sting on BJP. Mehra and Sharma wrote a letter to Sonia after UPA government assumed office, alleging continuous persecution by the agencies.
However, reacting to media reports on the matter, Chidambaram in a statement said he had been shown a copy of the letter written by Sonia Gandhi.
"My noting on the letter is correct. I am certain that, on behalf of the (Finance) Ministry, I would have sent a reply based on the material put up to me. The letter of Mrs Gandhi and my reply should be read together.

"I suggest that the media may ask the government to release the reply to the letter," he said.
Last Updated Mar 31, 2018, 6:41 PM IST