BJP-TDP feud in Andhra reaching point of no return?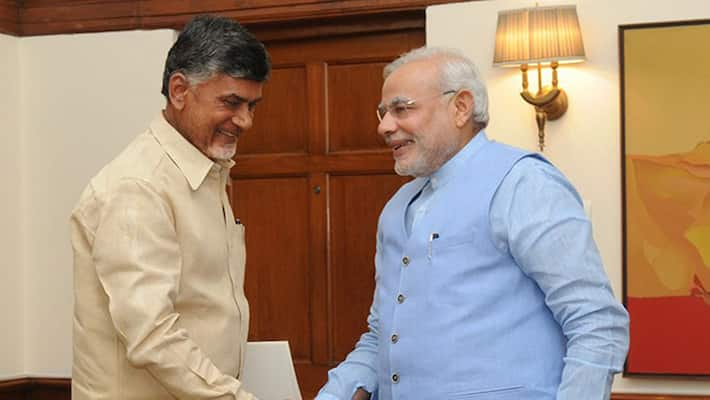 The Andhra Pradesh BJP today asked the TDP government to release a white paper on central assistance that the state had received in the past 22 months, the amounts spent and the works taken up with central funding.
The demand came amid the growing tension between the two NDA partners. The BJP is a partner in the TDP government and it has two ministers - Kamineni Srinivas (medical and health) and P Manikyala Rao (Endowments) in Chief Minister Chandrababu Naidu's cabinet.
Problems arose between the two parties when CM Naidu received less than expected funding for the construction of Andhra's new capital and the Polavaram project. This upset CM Naidu's plans and he reportedly started expressing his displeasure at the NDA government in internal meetings of the party.
But, the BJP alleges that central funds are being diverted to CM Naidu's pet programs without giving credit to Prime Minister Modi and the BJP.
BJP leadership in the state is of the opinion that CM Naidu is trying blame all failures on 'non-cooperation from the centre' while claiming all achievements as the results of his hard work. 
In the past one month, the attacks from TDP spokespersons Gali Muddukrishnama Naidu, Budda Venkanna and Gorantla Buchaiah Chowdary have reached a crescendo. They sought to establish that: "Centre has not given anything to help the state  which  in the throes of bifurcation."
This provoked a strong reaction from the BJP.
BJP MLA Akula Satyanarayana today said the BJP was not particular about the alliance with the TDP. "The state government should first release a whitepaper on the central funding and the amounts spent," he said, accusing the TDP government of rebranding central funds to promote TDP interests.
Critical of Naidu's lavish style, Satyanarayana questioned the CM's foreign visits on special flights. He also asked the TDP government to reveal the exact details of the funds spent on the capital construction.
Satyanarayana rubbished the TDP's demand for special category status to Andhra Pradesh. "Does the TDP know who is going to benefit from special category status? Only corporates.  We are watching what is happening in Brandix. The company grabbed 1000 acres while claiming it would create 60,000 jobs. What finally the state got was just 18,000 jobs with a meagre wage of ₹4200 per month, which is far lesser than the salary of a farm labour," he said.
Political observers feel that though there is no clash yet at higher levels, differences between the yellow and saffron parties is reaching a point of no return.
"Sensing this CM Naidu is wooing Muslims in the state while the BJP central leadership is trying to keep YSRCP's Jaganmohan Reddy in good humour," an observer commented.
Last Updated Mar 31, 2018, 6:47 PM IST