'Dynasts abuse Hindu faith...' TN Minister Udhayanidhi Stalin's remarks on eliminating Sanatan Dharma explode
Controversial remarks by Udhayanidhi Stalin, son of Tamil Nadu Chief Minister MK Stalin and leader of Dravida Munnetra Kazhagam party, where he seemingly equated 'Sanatana Dharma' with diseases and called for its elimination, have sparked a political dispute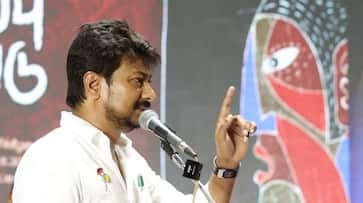 Dravida Munnetra Kazhagam (DMK) leader and Tamil Nadu Youth Welfare and Sports Development Minister Udhayanidhi Stalin's controversial remarks allegedly equating 'Sanatana (Dharma)' with malaria and dengue and calling for its eradication has triggered major war of words between the BJP and the Congress.
Controversial comments made by Dravida Munnetra Kazhagam (DMK) leader and Tamil Nadu Youth Welfare and Sports Development Minister Udhayanidhi Stalin, in which he seemingly equated 'Sanatana Dharma' with diseases like malaria and dengue and called for its eradication, have ignited a heated dispute between the BJP and the Congress.
Union Minister Rajeev Chandrasekhar took to micro-blogging platform X (formerly Twitter) to say that as a cover for their corruption and parasitic behaviour, the 'dynasts' create narratives like 'Protecting Dravidian Land' and abuse the Hindu faith. "The only thing they protect is their own wealth and politics. In all their years, they haven't done even 1% of what PM @narendramodi ji has done for Tamil Nadu in only 9 years," he said.
Amit Malviya, the head of the Bharatiya Janata Party's (BJP) IT cell, alleged that the DMK leader was advocating for the "genocide of 80% of Bharat's population, who follow Sanatana Dharma." He also criticized the Congress-led INDIA alliance on the matter.
Malviya posted a video of Stalin's speech with Hindi subtitles, stating, "Rahul Gandhi speaks of Mohabbat ki Dukaan (shop of love), but the scion of Congress ally DMK talks about eradicating Sanatana Dharma. Congress's silence implies support for this genocidal call... I.N.D.I Alliance, true to its name, if given an opportunity, will annihilate the millennia-old civilization of Bharat."
In the video, Udhayanidhi can be heard saying, "I thank the organizers of this conference for giving me the opportunity to deliver a special address. You have named the conference 'Sanatana Abolition Conference' instead of 'Anti-Sanatana Conference,' and I appreciate that."
He goes on to say, "Some things should not be opposed; they should only be abolished. We can't oppose Dengue, Mosquitoes, Malaria, or Corona; we have to eradicate them. Similarly, we have to eradicate Sanatana rather than opposing it."
He added, "The name Sanatana is from Sanskrit. It is against social justice and equality."
Congress MP Karti Chidambaram came to Udayanidhi's defence, stating that his remarks had been mischievously misinterpreted. Chidambaram explained that in Tamil Nadu's common parlance, "Sanatana Dharma" refers to a caste-hierarchical society. He noted that those advocating for it often come from the privileged segment that benefits from this hierarchy.
Chidambaram posted on social media, "In the common parlance of TN, 'Sanathana Dharma' means Caste Hierarchical Society. Why is it that everyone who is batting for 'SD' comes from the privileged segment who are beneficiaries of the 'Hierarchy'? There was no call for 'Genocide' against anyone; this is a mischievous spin."
Last Updated Sep 3, 2023, 11:25 AM IST