Sushant Singh Rajput suicide: Subramanian Swamy thinks Sushant was murdered; petition filed for SIT probe
BJP MP Subramanian Swamy thinks actor Sushant Singh Rajput was murdered. He explained with a document on his Twitter handle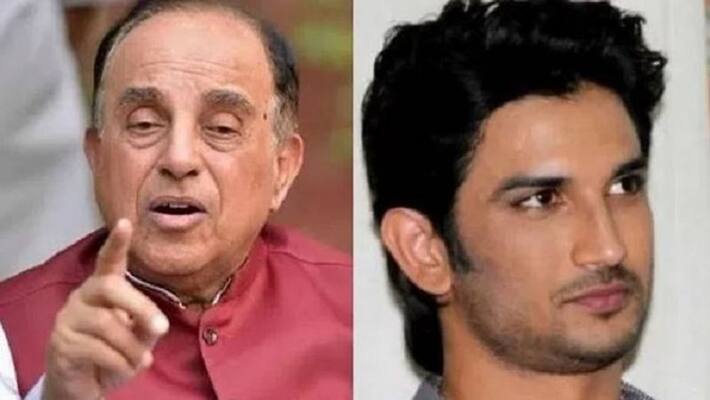 Mumbai: A petition has been filed in the Bombay High Court seeking an inquiry into the death of actor Sushant Singh Rajput from an independent agency or SIT constituted under the supervision of the court.
In the same case, BJP MP Dr. Subramanian Swamy has created a sensation with his tweet, "Why I think Sushanth Singh Rajput was murdered". He feels Sushant did not commit suicide but was murdered. Also, Sushant's sister Mitu has revealed a lot during her questioning by police.
The petition has been filed by a Delhi based NGO 'Let's Talk'. In the petition, Rhea Chakraborty's role has been questioned.
Sushant's father's lawyer Vikas Singh will file caveat
The accused in the case Rhea has filed a petition in the Supreme Court. In the petition Rhea has appealed to transfer the case field in Patna to Mumbai. From Sushant's father's side advocate Vikas Singh will file a caveat. According to Vikas, he will answer every question raised in the petition in the court so that in the legal battle the real accused can be found.
Sushant had told her sister about his fight with Rhea
Police have questioned Sushant's sister Mitu. The questioning has revealed many things. According to police sources, on the evening on June 8, Mitu was informed about a fight between Rhea and Sushant. The next day Mitu went to Sushant's flat in Bandra. Mitu also said that Sushant had told her about his argument with Rhea. Mitu added that Sushant had also informed her about Rhea leaving the house with some of her belongings and may be that she might not return. Sushant was disturbed by Reha leaving.
Mitu further said "I tried to make him understand. I had stayed there for four days. My kids are small hence I returned from Bandra on June 12. While returning I tried to convince Sushant to stop the medicines. I had not even imagined even in my dreams that Sushant could take such a step. After two days, Siddharth Pathani called me saying that Sushant has not been opening the door of his bedroom for a long time. I immediately left for Bandra. While on my way I tried to contact Sushant but it was of no use."
Subramanian Swamy thinks Sushant was murdered
Sushant was found dead in his Bandra apartment on June 14. BJP MP Swamy has explained in his tweet why he feels that Sushant was murdered. In the tweet he has shared the picture of a document. The document mentions the location of the marks found on Sushant's neck. The document states that the mark found on Sushant's neck doesn't point towards suicide.
The document that Swamy has shared talks about 26 points related to Sushant's alleged murder. He says that from those points only two points aim towards the suicide theory. All other 24 points suspect towards the murder theory.
Last Updated Jul 30, 2020, 2:14 PM IST