Supreme Court grants Arnab Goswami 3-week protection from arrest
In a relief for Republic TV chief Arnab Goswami, he Supreme Court granted him three weeks protection from arrest.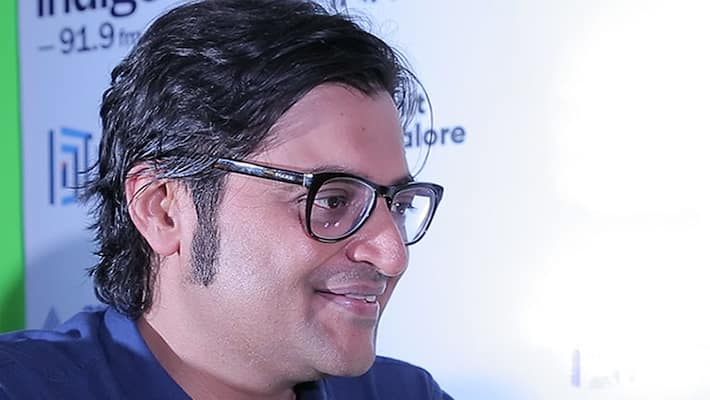 New Delhi: The Supreme Court on Friday, April 24, granted three weeks interim protection from arrest to editor-in-chief of Republic TV, Arnab Goswami. According to the ruling, no coercive action can be taken against Goswami for three weeks, during which time he can approach the lower courts for anticipatory bail.
A bench of Justices DY Chandrachud and MR Shah, who was hearing the plea via video-conference, also put a stay on all the FIRs, barring the one which was registered in Nagpur. "No coercive actions will be taken against Goswami for two weeks," the court declared.
The court, today, transferred the FIR filed in Nagpur to Mumbai and the investigation on the same will be carried out along with the probe on the complaint filed by Goswami pertaining to the attack made against him.
At least 16 complaints had been filed against Arnab Goswami in the states of Maharashtra, Madhya Pradesh, Telangana, Rajasthan and Chhattisgarh. Proceedings on all other FIRs in various states shall remain stayed.
Also read: Complaints registered against Republic TV chief Arnab Goswami for 'inflammatory statement'
Goswami is facing the ire of the Congress after his verbal attack on Sonia Gandhi, questioning her "silence" over the Palghar mob lynching incident, in his programme on the Republic Bharat news channel.
Representing Arnab Goswami was senior advocate Mukul Rohatgi who was briefed by a team from Phoenix Legal.
Beginning his submissions, Rohatgi took the court through the details of the recent Palghar lynching incident. It was during a live debate on the Palghar incident that Goswami made the alleged defamatory statements against Congress president Sonia Gandhi.
Rohatgi argued that Goswami deals with questions of public interest and that the anchor questioned the inaction of police in light of the Palghar incident. He clarified that there was "no religious angle" given by Goswami during the programme.
The senior advocate submitted that Goswami asked some questions pertaining to the silence of the Congress president on the killing of the sadhus in Palghar and had added that if persons from the minority community were killed, Congress would be the first to raise the issue.
Rohatgi also referred to the alleged attack on Goswami and his wife and called it a "murderous assault" on the duo.
However, defence lawyer Kapil Sibal referred to a few remarks made on the television debate and wondered if it came under the Right to Freedom of Speech. "You are trying to ignite communal violence here by putting Hindus against minorities," he argued.
"What's the problem if Congress workers have filed FIRs? Is Goswami so special that he will not appear for questioning? Doesn't he file FIRs? Congress leader Rahul Gandhi is appearing in a defamation case. There is no question of protection," he added.
Last Updated Apr 24, 2020, 2:25 PM IST