Supreme Court adjourns Sabarimala matter to February 6 with 10 days fixed for concluding the hearing
The Supreme Court will hear the Sabarimala matter again on February 6. The CJI had fixed ten days for concluding the hearing on the petition seeking women's entry into Sabarimala temple, mosques, and Parsi Agiyari.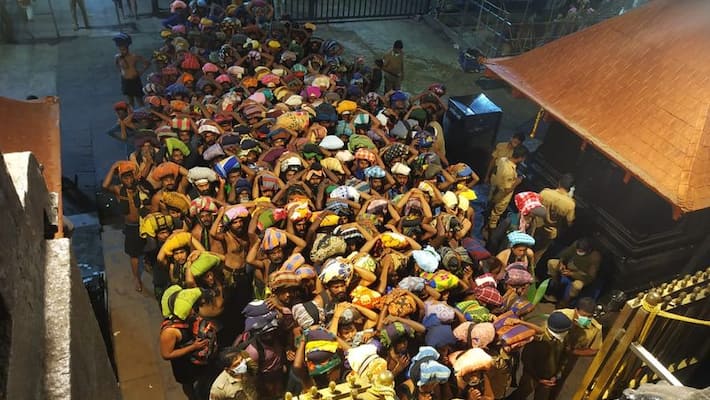 New Delhi: The nine-judge bench of Supreme Court will hear the Sabarimala matter again on February 6.  During the day's hearing, Solicitor General (SG) Tushar Mehta told the apex court that the issues could be framed in the chambers itself. He stated that there is no need to frame the questions and other issues if relevant, in an open court.
 
After hearing Mehta's submissions, CJI SA Bobde observed that there are questions that arose in Sabarimala, and also there are questions that are there in other cases such as Muslim women's demand to enter mosques, and the FGM in Dawoodi Bohras and whether Parsi women married to non-Parsis lose religion.
 
The Supreme Court on January 28 said that the larger bench would wrap up the case involving women's entry into Sabarimala within 10 days. The case is regarding discrimination against women in various religions and at religious places including the Sabarimala shrine.
A bench headed by Chief Justice SA Bobde made it clear that questions to be dealt with would be purely legal in nature, and it would not take more time in concluding the hearing. "It cannot take more than 10 days. Even if someone wants more time, it cannot be given," said the bench, which also comprised Justices BR Gavai and Surya Kant.
The observations came when Solicitor General Tushar Mehta mentioned the case before the bench, saying that in pursuance of the court's earlier direction, a meeting of lawyers took place on January 17, but it could not finalise the common legal questions for consideration of the nine-judge bench.
The apex court, by a majority verdict of 4:1, on September 28, 2018, had lifted the ban that prevented women and girls between the ages of 10 and 50 from entering the famous Ayyappa shrine in Kerala. They held that this centuries-old Hindu religious practice was illegal and unconstitutional.
Last Updated Feb 3, 2020, 7:41 PM IST