Desiree Murugan was stabbed 192 times and beheaded for muti
In August 2014, Murugan was lured to a Shallcross sports ground where she was killed and beheaded
Desiree's head was found buried at the home of traditional healer Sibonakaliso Mbili
In 2014, Tamilian Desiree Murugan met a gruesome death at the hands of a group of South African faith healers. She was stabbed 192 times and then beheaded.
The trial of the case was being held in the Durban High Court where convicted murderers Falakhe Khumalo, Jimmy Stanley Thelejala, Mlungisi Ndlovu and Mbali Magwala were sentenced. It is only in 2017 that traditional healer Sibonekaliso Zaba Makhosi Mbili who demanded the head, was sentenced to life for the beheading.
Sibonakaliso Mbili had promised one of the four co-accused, Falakhe Khumalo, to pay 2 million Rand (USD 153,000) for bringing head of an Indian or a white or a coloured woman, to be used in illegal witchcraft purposes, officials said.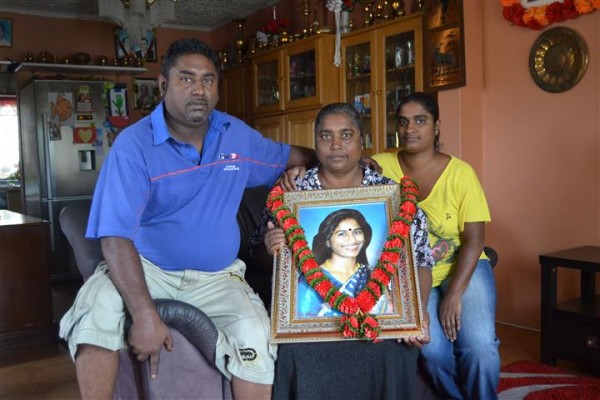 Khumalo, with the help of three other youths - Jimmy Stanley Thelejala, Mlungisi Ndlovu and Mbali Magwala committed the crime.
Murugan's headless corpse was found by municipal workers at the Shallcross Sports Stadium in August 2014. Falakhe Khumalo — the accused who has already been convicted and is serving his life sentence at Westville Prison — shared gruesome details of the incident and how there were other people who were supposed to help commit the crime, but did not show up on the day of the murder.
A relaxed Khumalo told the court how he lured Desiree Murugan to a sports field and gave details of how the men chopped off her head, reports the Rising Sun Chatsworth a local publication.
Magwala got a lighter sentence because he only selected Murugan as the victim but did not participate in the actual stabbing.
Welcoming the sentence, the community members said that it would send a strong message to those who are duped into believing that human body parts can be used as traditional medicines.
Earlier, the Traditional Healers Association of South Africa had also condemned the practise as one by rogue elements, in especially rural areas of the country, that was giving a bad name to genuine traditional healers.
with inputs from PTI
Last Updated 31, Mar 2018, 7:00 PM IST